Set a century before the events of Mai-Otome, Ayane Kourin is a sub-series which Sunrise released within the Big Bang Project a few years back.
Now, you must understand here that Sunrise refuses to bring up any information on this and won't publish it anymore (nor has anyone scanned or translated it because its so rare), but I
do
thankfully have a few bits and pieces.
Hazakura Ayane is the Princess of Taiyun (Taiwan) and is the ancestor of Hazakura Sakura. So basically, who I am talking about is Mashiro and Nagi's distant ancestor.
Note that none of these images are officially from me, this is from hours of sifting through different sites (both western and eastern) attempting to find out as much as I can on the Mai-Series.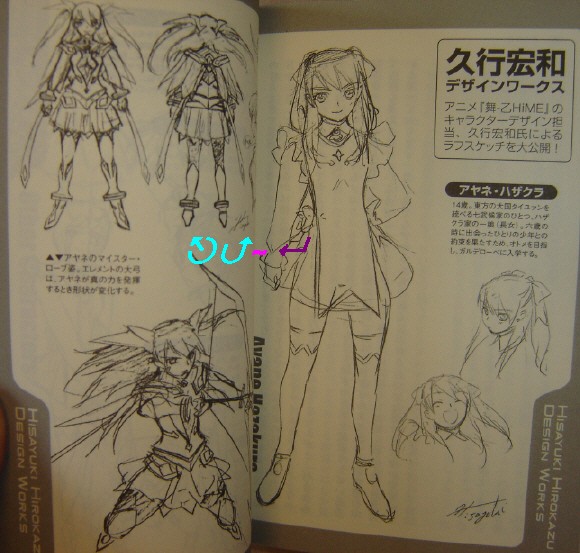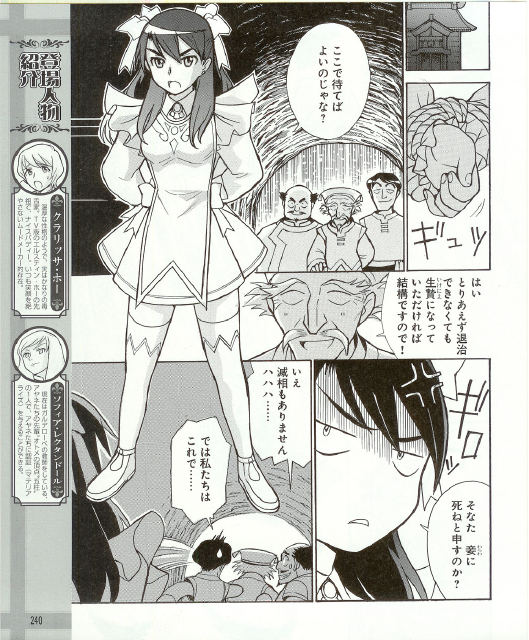 Unfortunately, because there is no information whatsoever, I can't give out any physical information here. All I've managed to do is translate a few of the characters names (for the time being a few I'm still unsure of are going to have blank names).
Sakura's Ancestor, Ayane
Erstin's Ancestor
Nina's Ancestor
Sophia
Nicola
Sheena(?)

Twisted Eternal Wolvetta

Valkyrie





Posts

: 451


Bubuzuke points

: 708


Armitage GUTS!!!

: 188


Join date

: 2011-11-18



Applying my somewhat limited knowledge of Japanese (which amounts to knowing that the characters can be copied & pasted to furnish a bot translation) to this Japanese Wiki page, there is a bit more information on characters from Saga.

Ayane Hazakura is, of course, the protagonist. A girl from Taiyuan and the former Meister wielding the Lofty Crimson Jade. Her master is Henri Ward Windbloom, a prince of Wind Bloom exiled eight years before the events depicted in the comic by his uncle who seized power during a period of strife which resulted in the death of the previous ruler. Though Taiyuan, like Zipang, was adverse to the use of Otome, Ayane, who originally studied Taiyuan-style fencing, resolved to become an Otome at the age of six, having seen a Meister called Sylvana Gale foil an attempt to assassinate Henri.

Nicola Ray Fran is one of Ayane's classmates and, with her, a member of the first Trias. She declined to become a Meister, instead marrying Henri's ally Claude Elder Makonnen. The surname Fran would thus originate (both internally & externally) with Nicola.

The third member of the first Trias is Clarissa (believe it or not) Ho. Unlike her later double Erstin, Clarissa and her older brother Edward hail from the Rosajyu Federation rather than Annam, where their family had a business empire before coming out on the losing side of a civil war contemporary with the coup d'état in Wind.

Sophia Alexander is the Number One Pearl during Ayane & company's Coral year, later becoming one of the Five Columns and eventually Gakuenchou. Her room attendants are Ayane & Clarissa and her major rival is Cosette DeLoach, who, upon graduation, wields the Pure Heart Malachite, ironically for a master called Argos (which would suggest that, when Akane becomes Kazu-kun's Meister, the GEM returned to its earlier home in Chaldea).

Sheena Steinmetz is Ayane's junior, a girl from the Rosajyu Federation orphaned as a result of that country's civil war, who is a huge fan of Ayane. By resorting to all manner of skullduggery, she succeeds in becoming one of Ayane's room attendants.

Another character is Luna Brunelli, the retired former Meister for the late King of Wind, who is persuaded to return to service as Gakuenchou by Sophia. Under Luna's administration, Garderobe is reorganised, which results in the foundation of the institution of the Trias.

The Wiki also mentions a Shared Hashtam, who seems to have been Column IV about a century prior to the events depicted in the manga.

Of course, this information is reliant on the aforementioned bot translations and I'm afraid I can't categorically state that the end of the stick that I'm holding as I type is the correct one. I hope this info is of some interest and, please, if anyone has any clarifications or corrections, it'd be great to know more about Saga....

Break String SpinElf

Coral student





Posts

: 844


Bubuzuke points

: 973


Armitage GUTS!!!

: 103


Join date

: 2013-04-27


Location

: Lurking in a dark forest.




---
Permissions in this forum:
You
cannot
reply to topics in this forum