From my time spent here & elsewhere, there's a definite feeling I get that the devout & retiring Sister Yukariko and her in-no-way-properly-creepy suitor Ishigami are among the least liked characters in
Mai-HiME
. Who better, then, to serve as the subjects of this annoying windbag's latest arrogant & overbearing rant?
Yukariko's life & career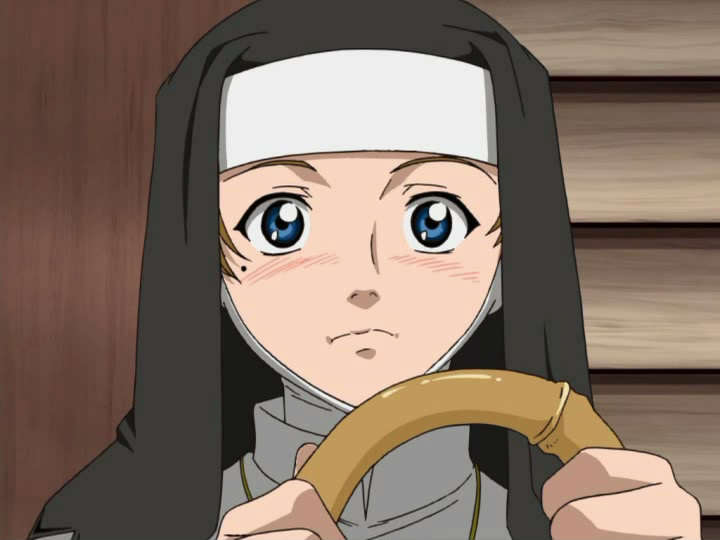 "
Let us pra... ooh! I have an 'overwhelming youth' rummaging through my undercarriage. Such a bad habit!
"
First off, pretty much the defining trait associated with Yukariko is (as one would expect of a nun) her complete lack of experience when it comes to the opposite sex. Of course, she admits no threat from the adolescent males who attend the school, understanding that most of their typically-over-hormonal girl-(or-cat-demon-or-panty-thief-)related problems, mishaps & misdemeanours are the result of "overwhelming youth" (pretty much her answer for anything earlier in the series).
However, this assurance in herself & her mission at the school is pretty much blown apart after she naïvely invites Nao Yuuki - pretty much the worst person to tangle with if you're Yukariko - to participate in confession, hitherto the most powerful weapon in the nun's armoury. We are left to take it that it does not go well as, despite my never having been to confession, the confessor freaking out & screaming for the torture to end probably means that said confessor has proverbially bitten off more than they can chew.
It is from this point that we see Yukariko experiencing a growing crisis of faith, which isn't helped by the growing attention furnished on her by the art teacher Wataru Ishigami. At first he merely seems to have an aesthetic interest in her and suggests he would like her to pose for a painting (presumably nekkid or, at the very least, otherwise wimple-less). However, this grows into a more romantic affiliation - and Yukariko is horrified to discover that she reciprocates, presumably due to the novelty of her being showered with attention by a chap. Ishigami is, it must be stated, far more open about his artistic admiration for Yukariko than his much cuter protégé is (which is not unexpected, given that she moonlights as a Secret Ninja).
By this stage, Ishigami has discovered a talent for manipulating Yukariko and her new-found abilities as a HiME, which continues to feed her crisis of faith as her Child's power is associated with deceit, anathema to a well-meaning lady of the cloth. This in turn causes her relationship with Ishigami to veer between passionate love and utter hatred: at one point, we see her directly threaten his life using her Element, whilst she eventually does bring about the end of his career of would-be global domination. What is it with incarnations of this guy which make his belles want to kick the living crap out of him?
I find it very satisfying to see that, at the end of the show, she has managed to reconcile her love for GOD with her love for Ishigami, whilst maintaining a forceful interest in the management of the Academy's church, proving a martinet in her training of some new novices, including, of course, the unlikeliest churchwoman of all time, Nao. Given Nao's part in triggering Yukariko's decline, this is one of those little vignettes that I love about this show.
By this stage, of course, she's heavily pregnant, which brings me back to another bone I like to gnaw on: was she pregnant during the HiME Carnival? In episode 22, Midori visits Yohko in the school sick bay and bumps into Yukariko, who reports that she's been feeling unwell. Could be fatigue, but, if there's an element of nausea, that's pretty much dramatic shorthand for being in the family way. Cue "oh shit" face on commitment-phobic future daddy. The fact that the conversation between Yukariko & Midori turns to matters of love & affection - a discussion initiated by the former - and the nature of the portrait Ishigami is working on, which features Yukariko nursing an "infant," strongly hints at such a possible direction.
Wataru Ishigami: a (hastily-sketched) portrait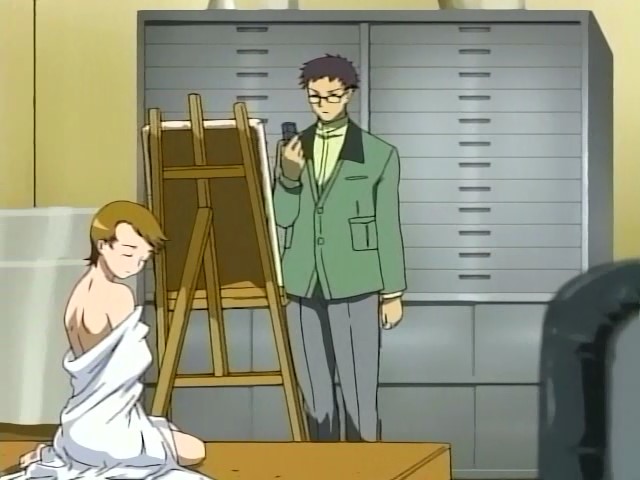 Gotta admire a man who can write "I'm a pained artist" tweets whilst in close proximity to a fair young damsel
.
Ishigami is quite an interesting piece of work, what with his machinations & manipulations. Certainly among the least sympathetic characters but very enigmatic.
One particular aspect I would like to draw attention to is Ishigami's apparent theological pretensions. In particular, when seeking to win Yukariko's hand, he opines that he is unable to compete against GOD for her affections. However, by continuing - and eventually succeeding in wooing her - he accomplishes just that. In addition, he makes an early play to usurp the power of the HiME Star to the detriment of the Obsidian Lord, which again is tantamount to pitting himself against a deity. This tale of the triumph and failure of beautiful ambition is perhaps the zenith of Ishigami's artistic legacy. Excuse me while I stroke my chip in a knowing, superior hipsterish manner.
The section below is complete & utter horseshit. Please feel free to correct, jeer or otherwise.
First off, his name is intriguing. His surname Ishigami is formed of the two kanji 石 & 上. 石 (
ishi
) signifies a "stone," whilst, whereas
kami
spelt using 上 means a starting point, summit, high place or person of high rank, it is a homonym of 神, a spirit or god. The possibility of interpretening the name as "stone god," whilst explicitly not supported by the spelling of the name, strikes me as quite interesting, given Biblical proscriptions on the creation of "stone gods": e.g. "Ye shall make you no idols nor graven image, neither rear you up a standing image, neither shall ye set up any image of stone in your land, to bow down unto it: for I am the LORD your God" - Leviticus 26:1. Additionally, by the latter stages of the history of the Israelites as depicted in the Tanakh/Old Testament,
bamot
or "high places" as places of worship came to be frowned upon in official religion. These often featured stele and altars of stone. Thus perhaps Ishigami represents an idol, drawing Yukariko away from her good Christian calling. This notion also accords well with his abortive attempt to claim the power of the HiME Star & usurp the Obsidian Lord using the abilities of St. Vlas & Yukariko.
It is also perhaps germane to note that the Slavonic thunder deity Perun was ascribed various stone weapons, and was associated with prehistoric arrowheads & fulgurites. He is also associated with mountains. Perun stood in opposition to the chthonic trickster figure Volos or Veles, who was to some extent syncretised with St. Blaise, the model for St. Vlas. This binding of opposite elements in an eternal cosmic struggle is, in my opinion, mirrored by the relationship between Yukariko & Wataru.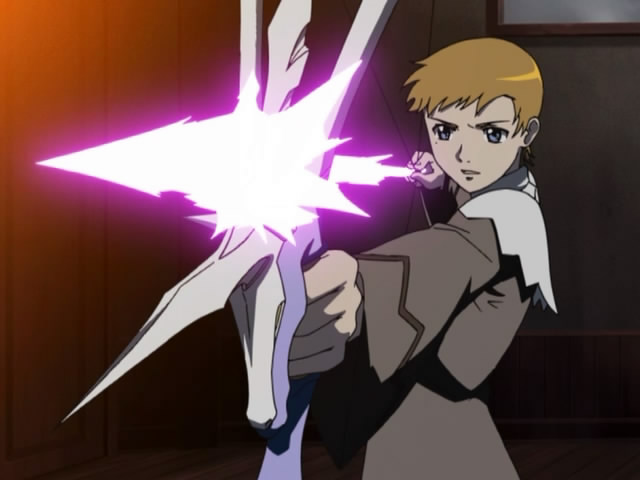 "
Tweeting about how you're a pained artist in the middle of our sitting? Bastard!
"
That's enough of what Dr. Spooner termed "wanfank" for one day. Elf out.

Break String SpinElf

Coral student





Posts

: 847


Bubuzuke points

: 976


Armitage GUTS!!!

: 103


Join date

: 2013-04-27


Location

: Lurking in a dark forest.



Just adding a few notes about what I make of Yukariko's career trajectory, if you will.

First & foremost, Ishigami and his constant pestering initially confuses the hell out of her. After all, she has no experience of attention from members of the opposite sex. Soon, though, as his intentions become apparent, his foisting of himself upon her finally causes her to develop romantic feelings for him, particularly in the wake of her encounter with Nao. She suddenly realises that she misses him when he's not around to irritate her with his constant entreaties that she pose for him. His manful proceeding in spite of her protests has caused romantic feelings to develop within her, along with the attendant confusing, particularly with regards to her religious calling. This exacerbates the confusion which she is feeling as a result of her desires being awakened (I fully sympathise - I've been single for years and find all of the internal dialogues, second-guessing and poring over every detail of every transaction thoroughly terrifying). Of course, as she falls deeper in love with Ishigami, conflicted as she is between her feelings for the inscrutable art teacher and her religious ardour, her attitude towards the man swings from almost a desire to please him (as seen by her going along with his plans as if devoid of a modicum of willpower of her own) and resentment bordering on hatred, which is expressed at first through her impotent protests against the course of action he has chosen and later into moments of full-blown hatred. With the aid of Midori and a more developed internal dialogue, she is eventually able to accept her feelings, whilst, typically, realising that she is the person best able to stymie Ishigami's ambitions. Cue locked-lipped immolation.

Needless to say, despite her having a reputation as one of the least interesting & sympathetic characters in Mai-HiME, I have something of a soft spot for the good sister. To me, she furnishes an interesting example of someone falling in love whilst simultaneously being duty bound to another. To some extent her career can be seen as paralleling to some extent that of the peerless Arthurian hero Lancelot du Lac: Sir Lancelot was rendered ineligible to quest for the Holy Grail due to his loving Guinevere more than GOD. This struggle between the "forbidden" earthly desire and religious devotion is also at the heart of Yukariko's character.

Break String SpinElf

Coral student





Posts

: 847


Bubuzuke points

: 976


Armitage GUTS!!!

: 103


Join date

: 2013-04-27


Location

: Lurking in a dark forest.



Similar topics
---
Permissions in this forum:
You
cannot
reply to topics in this forum