Harem Time!

Just wait, this text will eventually spring a funny image.
Ah harems, along side of genres like magical girl, mecha, and romance comedies the harem genre has been given for past decade or so. In fact of all things the harem will always survive to plague or bring joy every anime season.
For those who don't know what a harem anime it's pretty simple to figure out(in fact some people are bit too loose with the definition). A harem anime is when the main protagonist surrounded by two or more members by the opposite sex(typically) who either have a romantic interest in the protagonist or great undying respect for them. It can go either way, either one boy and bunch of a girls or vice versa.(A girl surrounded by a bunch of girls are refer to as a reverse harem).
nao while a lot of harems are based off really trite cliches and have a persuading sense of "moe" to them that can be suffocating, there are some gems to be found in the dirt. When a harem is done right, it can be hilarious while also being endearing in the more serious moments of the show due to a strong character base.
Off from my rant feel free to discuss whatever harem anime/manga you want in the thread! To people interested in getting into harems I will post a list of recommendations(anime for nao) of stuff to see and stuff to avoid to prevent someone from getting off on the wrong foot.
STUFF TO SEE!
Bakemonogatari
MM!(I think this is a hilarious harem but if your not a fan of the more masochistic behaviours of a protagonist in harem don't watch. This guy revels in it, which is why it so much to fun to watch, for me anyway).
Shuffle(Cheesy but funny and endearing in it's own right).
Love Hina(The essential harem anime, it's full of the cliches of other sub par harems but unlike those it was among the first if I'm not mistaken and has a lot more heart than any of those generic harems).
Fruits Basket(Reverse Harem)
Ouran High School Host Club(Reverse Harem)
Kore wa Zombie Desu ka?
Sekirei
Clannad(The second season is not a harem but the first season share a lot of harem elements).
Stuff to possibly see if your bored but not the best
Zero no Tsukaima(Not too bad as a action harem type of deal).
Goshuushou-sama Ninomiya-kun(There is some great over the top comedy going on here and some memorable lines).
STUFF TO AVOID OR ELSE!
Green Green(Sorta like this myself but this is not something you want to start with or probably even want to see)
Girls Bravo!(Average you can get)
School Days(If you watch anything only watch the last episode)
Dragon Crisis(A sort of fun journey but not great on the whole)
IS:Infinite Stratos(No matter how shiny it may look it's not worth it. Generic as they come).
Ladies versus Butlers
Valkyrie





Posts

: 263


Bubuzuke points

: 437


Armitage GUTS!!!

: 154


Join date

: 2010-11-19


Location

: Ohio



Sometimes I look back on my life and realize I've lived the harem anime dream. I have very little guy friends, most of the people I talk to are girls. Normally that would mean I'm homosexual in the eyes of the public, but I just prefer the company of women. It wasn't long ago I was considered a "player", so you can imagine the kind of addictive lifestyle I cherished. Even nao that I've fallen in love with that one special girl, I'm still surrounded by females. :) Only difference is they're gay nao. <3
There are so many harem anime I'd like to go over. In my next post I'd like to write a detailed analysis of my favorite harem anime,
Ai Yori Aoshi
. Arguably, the best there is to me. Right nao, I will tip my hat to the anime/manga series,
Love Hina
. Ken Akamatsu is a genius: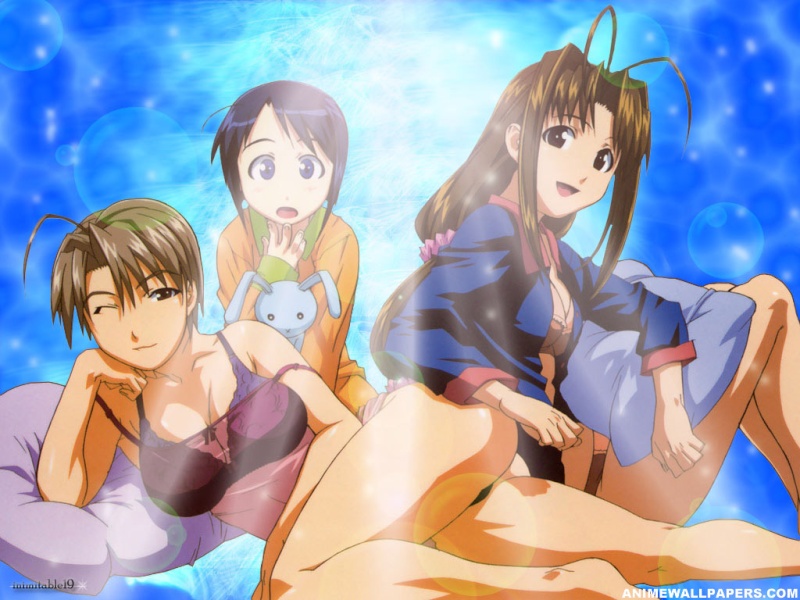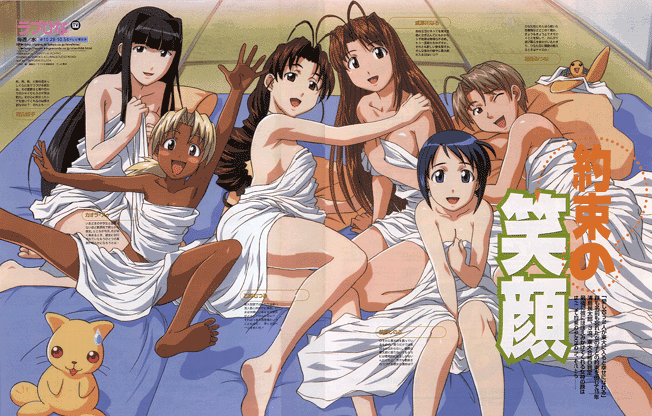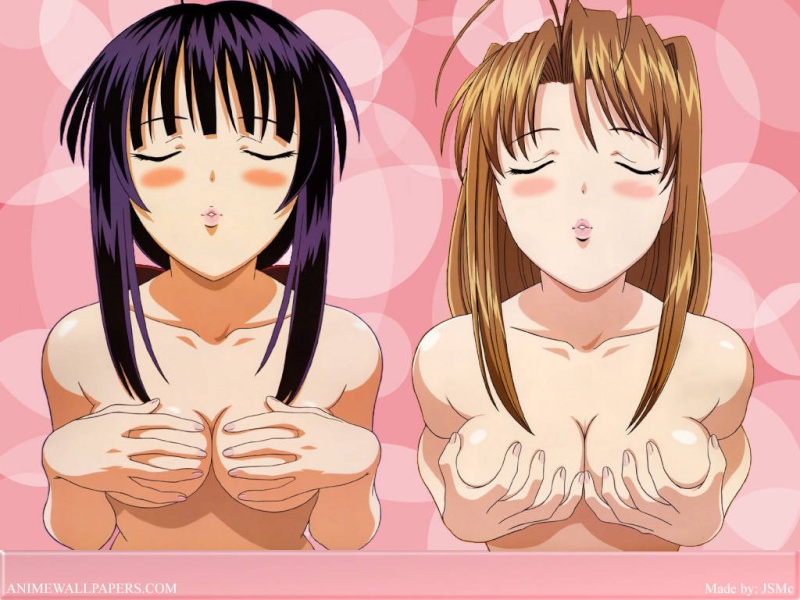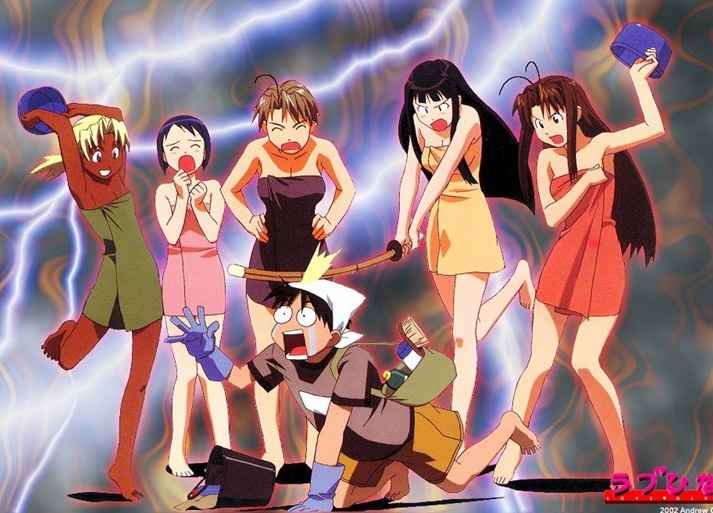 I actually have wall scrolls of the Naru and Kanako groping their breasts. <3
_________________
Mai
-X-
Project
The law of physics: Whenever there's this much gay in one room, Shizuru manifests!When Shizuru said "Ara" for the first time, the "Ara" broke into a thousand pieces and they all went skipping about. That was the beginning of fairies.
Administrator. The Showstopper. The Headliner. The Main Event. The Icon. Mr. Mai-Series.





Posts

: 38808


Bubuzuke points

: 42497


Armitage GUTS!!!

: 2516


Join date

: 2010-05-01


Age

: 32


Location

: Garderobe Academy



the only real harem anime to do it for me is as follows:

Happy Lesson. This whole series was meant to be a sort of deconstruction of Harem animes, and what was really refreshing to me was seeing the main guy Chitose as a glum, unhappy, and total snarker to everything that happens. It was like the animators just followed me around and made me a harem lead. Best of all was all the women in his so called Harem just wanted to be his mother.
Though that's not to say he doesn't have his own small number of admirers and he does unfortunately get his with a few of this show' examples of a "Naru-punch" but they thankfully don't overdo it.

Coral student





Posts

: 644


Bubuzuke points

: 888


Armitage GUTS!!!

: 233


Join date

: 2011-02-09


Age

: 34


Location

: The sunken City of R'Lyehh



I found the box set for Happy Lesson $20 but I haven't got around to it though. Sounds like a fun though so I will have to get around to it.
Valkyrie





Posts

: 263


Bubuzuke points

: 437


Armitage GUTS!!!

: 154


Join date

: 2010-11-19


Location

: Ohio




---
Permissions in this forum:
You
cannot
reply to topics in this forum