Page 4 of 4 •

1, 2, 3, 4

shezaei-neko wrote:

Zero f*cks cookie mode activated!
:
*gets down on her knees to pray* Oh Lord, please protect me from these open minded liberals.
_________________
Mai
-X-
Project
The law of physics: Whenever there's this much gay in one room, Shizuru manifests!When Shizuru said "Ara" for the first time, the "Ara" broke into a thousand pieces and they all went skipping about. That was the beginning of fairies.
Administrator. The Showstopper. The Headliner. The Main Event. The Icon. Mr. Mai-Series.





Posts

: 38805


Bubuzuke points

: 42493


Armitage GUTS!!!

: 2517


Join date

: 2010-05-01


Age

: 32


Location

: Garderobe Academy



: Nyancat!! I choose you!!!
Nyancat! Use yuri rainbow attack NOW!!!
_________________
All hail ShizuNatsu and FLight!!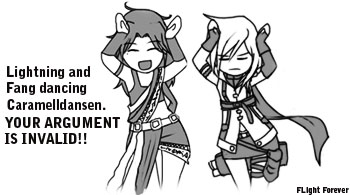 Meister Otome





Posts

: 3248


Bubuzuke points

: 4088


Armitage GUTS!!!

: 756


Join date

: 2012-06-11


Location

: Macross Quarter



shezaei-neko wrote:

: Nyancat!! I choose you!!!

Nyancat! Use yuri rainbow attack NOW!!!
Yuri rainbow attack should be a healing attack for any lesbian (except Tomoe) in Mai-HiME/Otome
Space Samurai Marshall Banana





Posts

: 8940


Bubuzuke points

: 9709


Armitage GUTS!!!

: 593


Join date

: 2012-07-21


Age

: 27


Location

: Purgatory



During my desert excavations in search of the lost knowledge of the pre-Otome age, I came across this thread & thought I'd have my two-penneth.
Una & Shizuru? Quite probably. It's certainly a tantalising idea.
Luu Sky Sapphire wrote:They're both the Bewitching Smile Amethyst and unless I missed something, perhaps GEM are passed down through family bloodline? Happened to Arika, but the circumstances were different.
And, of course, Lena got the GEM from her mother (regarding whom could her initial aversion to Lena becoming an Otome perhaps stem from her own experiences during the Dragon King War as much as from her fears for her daughter?). Also, Elliot & Sara are both green-eyed blondes who use the same GEM (and even enjoy First Column status). Elli-chin is also seen wearing glasses in episode 2 (though that can't be conclusive given Lena herself sports a pair when masquerading as a maid).
Nevertheless, in other cases GEMs are passed down between unrelated individuals in the case of retirement (for example Akane obtaining the Pure Heart Malachite after Rosalie's abortive retirement).
With regards to Irma & Natsuki, Ice's point is of key important in my view: -
Ice Silver Crystal wrote:Una could be the mama. i don't think Irma-san is Natsuki's mother. she'd have to look like saeko. :/
Plus, if Irma bears a superficial resemblance to anyone, to me she's most likely to be related to the probable third member of Shizuru & Haruka's Trias seen in the picture from Natsuki's Coral days: -

I'm not saying that this girl is definitely related to Irma but she has more of a resemblance to her than Natsuki does. Perhaps all three hail from the enigmatic land of Kruger?
Coral student





Posts

: 842


Bubuzuke points

: 968


Armitage GUTS!!!

: 100


Join date

: 2013-04-27


Location

: Lurking in a dark forest.



Una does vaguely resemble Shizuru but it could be just coincidence
Valkyrie





Posts

: 265


Bubuzuke points

: 429


Armitage GUTS!!!

: 126


Join date

: 2010-12-26


Age

: 30



Page 4 of 4 •

1, 2, 3, 4

---
Permissions in this forum:
You
cannot
reply to topics in this forum