Tell me that
Ghost in the Shell 2
is in the works with Scarlett Johansson returning. I'll kill you faster than you can say "Whitewashing".
---
As the thread title days! This thread will house any exciting and upcoming anime news! Share articles, YouTube videos, blogs...anything that reveals cool new projects from Japan or North American dubbing companies!
I'll start off with three pieces of exciting news (for me, anyway):
1.
Yuu Watase Launches Fushigi Yūgi Byakko-hen Manga on August 28
The wraparound jacket band on the one compiled volume of Yuu Watase's Kiri Samurai manga revealed on Monday that Watase will launch the Fushigi Yūgi Byakko-hen (Fushigi Yūgi Byakko Chapter) manga starting in the October issue of Shogakukan's Monthly Flowers magazine, which will ship on August 28. Future issues of Monthly Flowers will reveal more details about the new manga.

Watase had revealed in August that she planned to launch "Byakko-hen" sometime in 2017.

Watase published a 51-page one-shot manga titled Fushigi Yūgi: Byakko Ibun (Fushigi Yugi: Curious Tales of the Byakko, pictured at right) in Monthly Flowers in February 2015.

Watase ran the original Fushigi Yûgi manga in Shogakukan's Shōjo Comic (Sho-Comi) magazine from 1992 to 1996, and Shogakukan published 18 compiled book volumes. She then drew Fushigi Yûgi: Genbu Kaiden from 2003 to 2013. Viz Media published both of these earlier manga and other works by Watase in North America.

The original manga inspired a 52-episode television anime series in 1995-1996. The manga also inspired three original video anime series. Geneon Entertainment first released the television series and three OVAs in North America. Media Blasters later re-released the television series on DVD in 2012-2013, and again in 2015. Media Blasters also released the three OVA series on DVD in 2013.

Crunchyroll began streaming the television series and three OVAs in February 2016.

Fushigi Yûgi has also inspired three stage play productions, as well as a stage musical, the latter of which ran in April 2016.
Source: Animenewsnetwork
---
2.
Sailor Moon S Part 2 Blu-ray/DVD + GWP releasing on 6/20/2017
Sailor Moon S part 2 contains episodes 109-127.

Sailor Uranus and Sailor Neptune's search for the three talismans has led them to become targets of the Witches 5, the Death Busters' beautiful and deadly agents, who also seek the talismans to summon the powerful Holy Grail! Now, Sailor Moon and the other Sailor Guardians are on a race against time to save their friends' lives and prevent the power of the Holy Grail from falling into the wrong hands.

Meanwhile, Chibi-Usa befriends a young girl named Hotaru, whose mysterious power quickly attracts the attention of both friend and foe. Is there a connection between Hotaru and the enemy? And who is the Messiah of Silence that is said to bring destruction? Will Sailor Moon's new power be enough to protect the world from the impending apocalypse?

Special Features: Cast Interviews, Cast Commentary, Art Gallery, Opening & Ending Songs, and more!
Source: rightstuf
---
3. Funimation Acquires "Record of Lodoss War"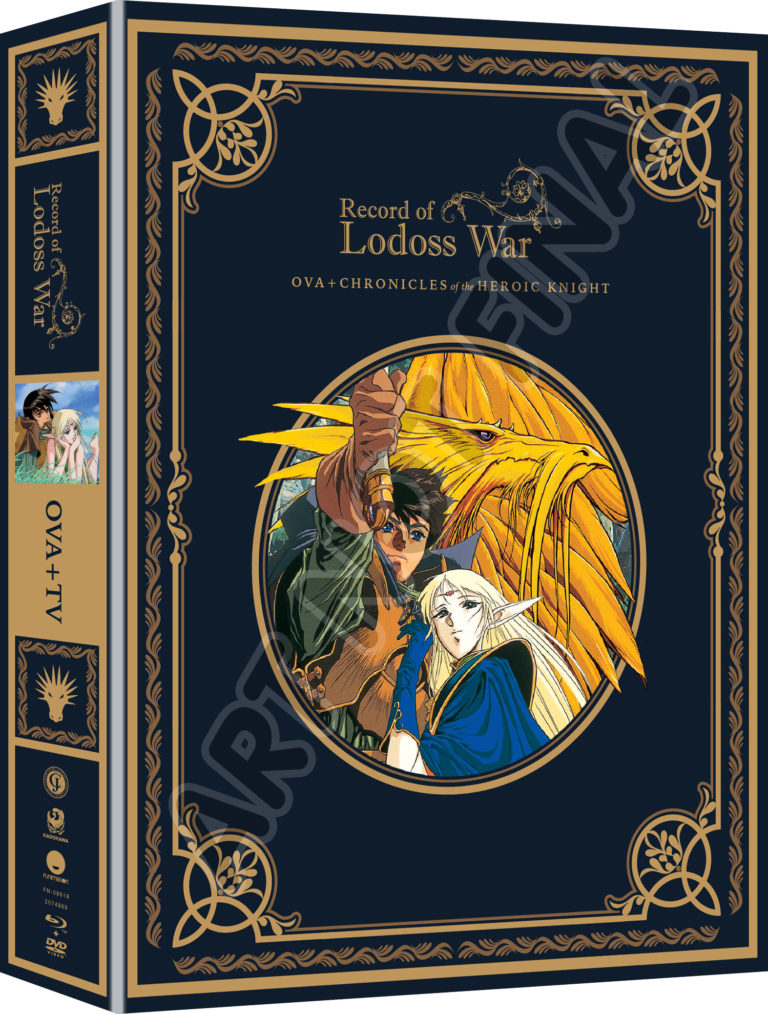 We're excited to announce today that Funimation has acquired the rights to Record of Lodoss War, releasing on 7/18/17! This release will include both the original OVA series as well as the TV series on DVD only, both features include the original 1990's CPM dubs!

Keep an eye out for pre-orders going live soon for:


Record of Lodoss War – Complete OVA series BD/DVD Combo
&
Chronicles of the Heroic Knight – The Complete Series – DVD

Summary:

Recognized as one of the pioneers of high fantasy anime, Record of Lodoss War made its claim among worldwide audiences with a rich RPG storyline and early musical pieces by Yoko Kanno.


Born to a banished knight in a land torn by war, young Parn and a ragtag team of adventurers set out to restore peace to the island of Lodoss. But the path is not an easy one. Presiding over all is the Grey Witch, whose bent for neutrality gives the heroes no peace. Meanwhile, in the cursed land of Marmo, an evil sorcerer seeks the destructive power of an ancient goddess. The ensuing battles cost the lives of many a friend and foe, until a brave new generation of heroes rises to face the sinister enemies once and for all.

Japanese Actor – Character

Takeshi Kusao – Parn

Yumi Touma – Deedlit

Norio Wakamoto – Woodchuck

Hideyuki Tanaka – Slayn

Kappei Yamaguchi – Etoh

Yoshiko Sakakibara – Karla

Shuichi Ikeda – King Kashue

Takeshi Aono – Wagnard

English Actor – Character

Bill Timoney – Parn

Lisa Ortiz – Deedlit

Jacques LeCann – Woodchuck

Al Muscari – Slayn

Ted Lewis – Etoh

Simone Grant – Karla

Chris Yates – King Kashue

Bruce Winant – Wagnard
Source: FUNimation
---
Incredibly excited for the second half of
Sailor Moon S
on Blu-Ray, the final untold story of Fushigi Yuugi in the Priestess of Byakko (though, I wish we had the anime for it AND Genbu!) and
Record of Lodoss War
FINALLY licensed by a major company with a home video release!
Record of Lodoss War
is bigger than
Game of Thrones
and
The Lord of the Rings
for me. It's medieval fantasy and lore done right. No long dull story, no shock value...just likable characters fighting one another for the domination of the accursed island of LODOSS!
2017 is a great year for anime! The only thing that will be the cherry on my sundae will be the release of Mai-HiME/Otome on Blu-Ray. It's coming VERY soon, I can smell it. With FUNi setting a release date for
Outlaw Star
, it's only a matter of time that their final leftover from Bandai Entertainment; Mai-HiME and Mai-Otome, shall be released. How does that old saying goes?
"Save the best for last."
_________________
Mai
-X-
Project
The law of physics: Whenever there's this much gay in one room, Shizuru manifests!When Shizuru said "Ara" for the first time, the "Ara" broke into a thousand pieces and they all went skipping about. That was the beginning of fairies.
Administrator. The Showstopper. The Headliner. The Main Event. The Icon. Mr. Mai-Series.





Posts

: 38833


Bubuzuke points

: 42531


Armitage GUTS!!!

: 2523


Join date

: 2010-05-01


Age

: 33


Location

: Garderobe Academy





Similar topics
---
Permissions in this forum:
You
cannot
reply to topics in this forum