Page 8 of 8 •

1, 2, 3, 4, 5, 6, 7, 8

90+ films throughout the year! With only 27 making my favorites list, including films I found memorable and fun. 2017 was surprisingly a pretty solid film year. My best-of list is much better than it was in 2016. Comic book films aside, we're getting talented directors and writers wanting to tell smarter stories that we can relate to. It's all escapism, and I don't need a super hero film or a remake of an already established franchise to fill this hole. A lot of my top films made way, and I mean WAY less money than The Last Jedi. Do I care? No. I know what today's dominant demographic is, and I don't care. I call it like I see it.
For the record, 'The Last Jedi' worked BECAUSE it went against the factory formula that plagues all of our blockbusters now. Thank you, Rian Johnson. Thank you for not making geek theories come to life. Thank YOU for making a motion picture franchise sequel that wasn't tampered by the fans. The fans had no say on the classics they say they grew up with. Why should they now?
Rant out of the way! Here comes my list. Enjoy, and have a fantastic beginning of 2018!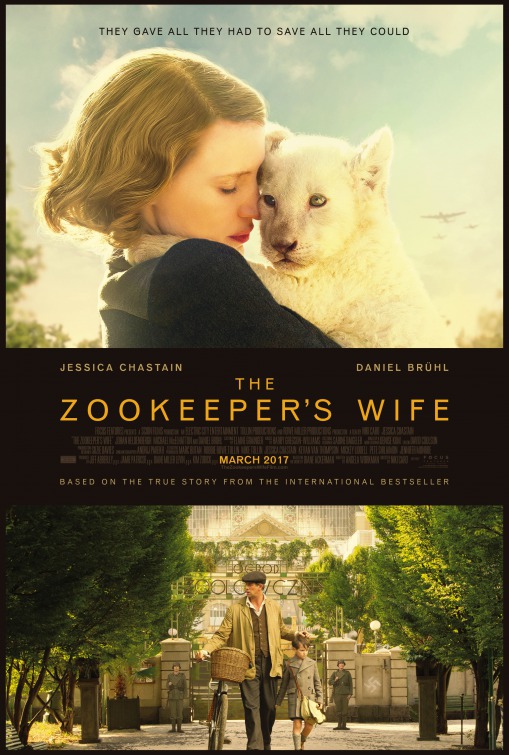 1.
The Zookeeper's Wife
(best film of the year. Emotionally powerful, inspirational and a story of true courage in one of history's darkest times. All within a setting not common in these types of dramas. Jessica Chastain DOMINATES as Antonina Zabinski. Showing that a strong female lead doesn't have to be manly, or a subservient companion to a male character. Jessica's Antonina is resourceful, strong-BUT ALSO FEMININE! And that;s only the tip of the iceberg for this film. It's beautifully shot, acted, tense and hits all the right emotional beats by offering hope to those who have none. All it takes is a little strength. These people are real heroes. Not dorks with huge hammers.)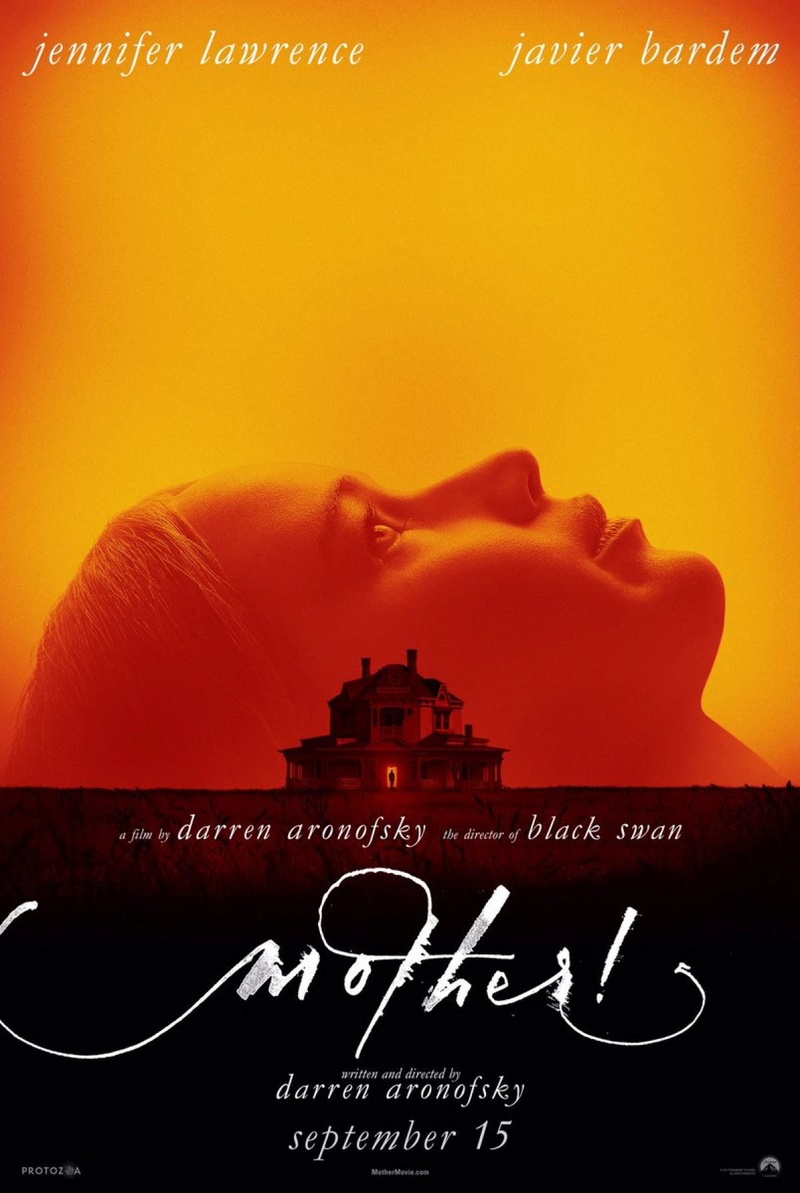 2.
Mother!
(Intense, scary, brutal and perfectly crafted/acted. Unlike every other horror film in existence, Mother! mind fucks you, and it's protagonist to the point of no return. True horror and clever horror elements are not clowns, ghosts and serial killers. It's among us right now. Those who've seen this masterpiece know what I'm talking about. Darren has hit home runs before with '
The Wrestler
' and '
Black Swan
', but Mother! is his best work yet. Praise to Jennifer Lawrence for selling this role better than anything she's ever done before. This is a psychological horror classic that no one can outdo. To me, horror was a dying genre with no redeeming qualities. No more tricks to shock or surprise it's audience, but
Mother!
did it with the last possible trick a horror writer can come up with. Guess what? WORKED!)
3.
Secret Superstar
(What? Thought this list belonged to Hollywood? My list is *world* based, and this film won my heart and soul. If you absolutely love your mother, you will be touched by this beautiful story. It's the only film on my list to make this grown man cry in a long time.) Meher Vij and Zaira Wasim put on the most genuine and realistic performances of the year.
4.
Molly's Game
(The story of Molly Bloom is sharp, superbly written and made me fall in love with the game of Poker again. Jessica Chastain once again delivers the performance of the century. Idris Elba also does an amazing job in the supporting role as Molly's attorney. Him and Jessica constantly steal the show from one another.)
5.
Wonder Woman
2017 (the only superhero film in the last 25 years to come off not as a factory assembled schlock fest for neck beards and children. Patty Jenkins and Gal Gadot have done the impossible by not only bringing Wonder Woman to life, but also managed to TELL A STORY. TELL A FUCKING STORY WITH GREAT CHARACTERS, MOTIVATIONS, ETC.. Something the MCU has yet to achieve in a time where their cheap entertainment is more than enough for the millennial nerds. It is not enough for me, and Wonder Woman accomplished what
Superman
1978 did by remembering that it was a motion picture first.)
Runners up:
6.
Lady Bird
(excellent film!) and
Angelica
(Sexy, sexual and Victorian gothic horror with Jena Malone's best performance to date!)
7.
Lady MacBeth
(Sadistic, chilling performance by Florence Pugh in a story of one woman who has had enough)
8.
Blade Runner 2049
(Underrated sequel! It's a shame it didn't make any money. What I thought would suck, turned out to be a worthy sequel to an already underrated original!)
9.
The Last Jedi
(The evolution of Star Wars and where it needed to go.)
10.
Megan Leavey
(The best dog film since Old Yeller, Benji and The Incredible Journey)
11.
I, Tonya
(EXCELLENT film that manages to make me laugh despite it's dark story about a fallen idol)
12.
Everything, Everything
(The most adorable romance of the year. Amandla gives a magnetic performance that's true to the original book(
13.
Valerian and the City of a Thousand Planets
(One of the biggest surprises of the year! Luc Besson managed to outdo
The Fifth Element
(YES! I SAID IT!) with this classic fun space adventure with tons of cool effects and creatures).
14.
Downsizing
(Fun, visual treat with an original concept!)
15.
Paris Can Wait
(Diane Lane shows off her comedy chops with great ease.)
16.
Tulip Fever
(Alicia Vikander stars in a 17th century piece that provides so many twists and turns, you'll never know what happens next in her character's elaborate plan).
17.
Beatriz at Dinner
(This dark, gritty look at the current world today seen through the eyes of a woman who is, perhaps, TOO good for our planet. Salma Hayek is dynamite here)
18.
The Beguiled
(An all star cast lead in this remake of the crappy 1971 version I didn't care for. Nicole Kidman, Kirsten Dunst, Elle Fanning and Colin Farrell are great together)
19.
Atomic Blonde
(While the film didn't have as much action as I was expecting, Charlize kicked major ass in a picture with more style and story subtlety than the overrated
John Wick 2
.)
20.
Justice League
(While I stand my ground on Marvel, DC seems to know what they're doing despite what Disney drones says.
Justice League
was actually fun, enjoyable and amusing (in a good way). Plus I feel like I have made peace with Henry Cavil now that he realized going the Christopher Reeve direction is the way to go. Plus Gal Gadot, Ben Affleck and Ezra Miller were a hoot in their respective roles. It was classic, corny, but not TOO corny popcorn fun).
21.
Beauty and the Beast
2017 (The animated version remains superior, but I loved the effort made by the live action cast. Emma Watson proved she could take on the role of Belle with just as much grace and poise as Paige did.)
22.
Unlocked
(Like
Atomic Blonde
, Noomi Rapace delivers a fun action film with interesting twists and turns)
23.
Murder on the Orient Express
2017 (Not as good as the original, or the book it's based on, but the strong cast keep it fresh and alive enough. Daisy Ridley is just gold in her few scenes!)
24.
Coco
(The Mexican people, in fact, people of any culture will enjoy this film. It pays tribute and respect to Mexican culture, and manages to be a magical experience).
25.
Resident Evil: The Final Chapter
(A little disappointing considering everything they had built up in Retribution was thrown into the trash, but the final chapter continues to excite and give Alice a worthy closure to her story.)
26.
Underworld: Blood Wars
(Admittedly better than Rise of the Lycans, but not strong enough to be on par with the rest of the series. At this rate, my money is well spent as long as Kate Beckinsale kicks ass.)
27.
Rough Night
(Hilarious Hangover with girls. Kate McKinnon, Zoe Kravitz and even Scarlett Johansson (of all people!) manages to entertain with solid comedy chops!)
Then you have the films that were just GARBAGE, or a huge disappointment.
Alien: Covenant
(Clearly the worst film of the year. What more can I say about this bullshit prequel that managed to destroy the entire Alien mythology with it's fanfiction.net/tumblr writing. On top of that, reducing the Alien series to a simple slasher with zero brains or science of the science fiction to tickle the brains of it's audience. Pure trash.
Jigsaw
(You dig up this franchise only to bury it again by doing what Alien Covenant did: MAKING SHIT UP! Jigsaw was predictable, stupid, watered down and BORING. Worse of all: Added NOTHING to an already dead franchise)
IT
2017 (Sophia Lillis aside, this film was awful. I remember seeing it a second time two months ago, only to realize it really has no staying power. To me, horror is supposed to leave you feeling vulnerable. Something
Mother!
accomplished beautifully. Horror's practical and CGI filtering effects can be used to enhance the experience, not to completely replace it. It tried so hard to jump scare at every opportunity, gave me child actors with cringe inducing dialogue (imagine if the kids from
'A Christmas Story'
were even more obnoxious; minus all the charm) and presented the tired ol' troupe of adults being the true scary monsters.
IT
2017 will startle (not scare) you relentlessly, if you don't already have your sleeping mask on.)
_________________
Mai
-X-
Project
The law of physics: Whenever there's this much gay in one room, Shizuru manifests!When Shizuru said "Ara" for the first time, the "Ara" broke into a thousand pieces and they all went skipping about. That was the beginning of fairies.
Administrator. The Showstopper. The Headliner. The Main Event. The Icon. Mr. Mai-Series.





Posts

: 38833


Bubuzuke points

: 42531


Armitage GUTS!!!

: 2523


Join date

: 2010-05-01


Age

: 33


Location

: Garderobe Academy



Page 8 of 8 •

1, 2, 3, 4, 5, 6, 7, 8


Similar topics
---
Permissions in this forum:
You
cannot
reply to topics in this forum