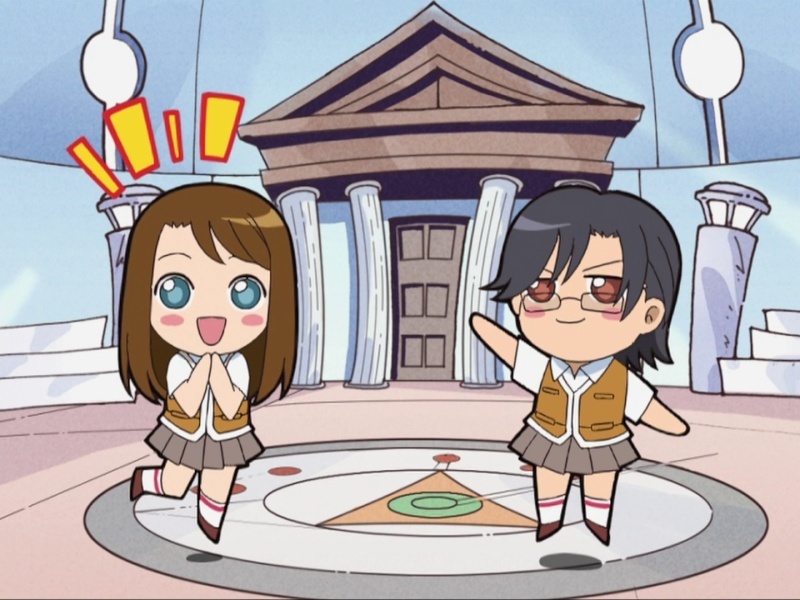 ---
Discussion thread for all the
Mai-HiME
Omake! You can talk about each omake or just comment on each in quick and painless fashion.
I will be back shortly to comment on each one to close out our June Mai-HiME Rewatch Month!
_________________
Mai
-X-
Project
The law of physics: Whenever there's this much gay in one room, Shizuru manifests!When Shizuru said "Ara" for the first time, the "Ara" broke into a thousand pieces and they all went skipping about. That was the beginning of fairies.
Administrator. The Showstopper. The Headliner. The Main Event. The Icon. Mr. Mai-Series.





Posts

: 38805


Bubuzuke points

: 42493


Armitage GUTS!!!

: 2517


Join date

: 2010-05-01


Age

: 32


Location

: Garderobe Academy



Mai-HiME Omake 1: Mai Tokiha's boobs
- What a way to start out! Mai talking about how impressive her boobs are. :) She feels great pride in her knockers, something now many women are open enough to express!
Mai-HiME Omake 2: Mashiro and Fuka Academy
- This omake is pretty much Mashiro BS'ing her way into making new Fuka Academy students believe her academy is safe and reliable. It's very comical seeing Mashiro covering up Orphan attacks. I agree with Mai's final word on the matter.

Mai-HiME Omake 3: Chie Harada and Aoi Senoh
- A personal favorite here as gossip gals, Chie Harada and Aoi Senoh introduce you to their fellow classmates, even providing a seating chart. Chie brings up a "boob ranking" that her and Aoi decide to take part in. Very random omake, but ever so hilarious.
Mai-HiME Omake 4: Shizuru on Natsuki
- Fans who didn't see ShizNat coming until the Carnival arc are blind! This omake gives you the earliest hints of Shizuru's attraction towards Natsuki. We learn that Shizuru knows a lot more about Natsuki than we thought! Like how she prefers girly things like dresses, stuffed animals and underwear. She also wishes to see a "genuine smile" on Natsuki someday. Don't worry, Kaichou, that day is coming!
Mai-HiME Omake 5: Mikoto Minagi
- So what does Mikoto do when Mai isn't around? Nothing much aside from playing and napping with two stray cats (Ranmaru and Miike). It's a cute Mikoto omake, showing off her innocence nicely.
Mai-HiME Omake 6: Shiho Munakata
- This is one of my least favorite omake. It's a gushy omake with Shiho talking about how in love she is with Tate. The only good thing I can say about the omake is that her feelings are sincere, no doubt about that. I just don't care enough about Shiho to be invested beyond that.
Mai-HiME Omake 7: Nao Yuuki
- Nao's omake is basically her reading her entire lure text for the next victim. Men may be stupid, but there is one man here on Earth who will never give himself to you.
: Who is this imbecile. Where is he?
*I* wish *I* knew.
Mai-HiME Omake 8: Akane Higurashi
- Akane works up the courage to confess her feelings to Kazuya. It's cute how she expects him to just wave it off by saying "okay, I told you how I felt so....BYE!" Thankfully, there was no need to whoosh off as Kazuya returns her feelings. The omake is pretty much how they got into a relationship.
Mai-HiME Omake 9: Haruka vs. Shizuru election
- This is a really good one! The famous election between Haruka and Shizuru for Student Council Presidency. We only see Haruka's speech in the omake; going on and on about how Fuka needs strict rules and discipline for the students. It's now wonder she lost horribly!
Mai-HiME Omake 10: Yohko on Midori
- Yohko talks about her friendship with Midori and knowing her since college. She mentions how intelligent Midori is (passing lit courses with flying colors), despite being a total dork.
Mai-HiME Omake 11: Yukariko Sanada's convent story
- Here we learn a bit about Yukariko's past where she grew up in a convent, never being around boys and men most of her life. It's because of this that her love advice for the students at Fuka go nowhere. She often wonders what it would of been like to be with a man and...you know.

Looks like sister has some more praying to do.
Mai-HiME Omake 12: Yukino on Haruka
- Yukino and Haruka have been best friends as long as they can remember. In this omake, Yukino expresses her feelings on Haruka and how she always looked after her. Perfect omake for HaruKino shippers.
Mai-HiME Omake 13: Tate Yuuichi
- Tate denies feelings just as much as the girl he's lusting over. In this omake, Tate talks about how he's so stuck on Mai beyond her impressive chest size.
Mai-HiME Omake 14: M.I.Y.U. Greer
- We learn about M.I.Y.U. Greer's technical rundown and feelings on Alyssa, her "Golden Angel". It's nice that Miyu transcends her programming to have actual human emotions for another, but since Alyssa is really young, the praise is kind of creepy.
Mai-HiME Omake 15: Alyssa Searrs
- Just like the previous omake, only in reverse. Alyssa expresses her feelings for her android lover.
Mai-HiME Omake 16: Nagi explains the Orphans to Natsuki
- Natsuki sits down with Nagi and asks the million dollar question: "What ARE Orphans?" This omake is noteworthy for several reasons. A. It explains the Orphans and how they function. B. We see where the Mai-HiME manga got it's inspiration to make their version of mayonnaise addict Natsuki and C. Natsuki is pissed off throughout the entire omake. Being around Nagi does that. :)
Mai-HiME Omake 17: Midori Sugiura
- A very good omake with Midori making her goals and principals heard. To her, human will and knowledge is what drives a person into greatness. You call the shots in life because nobody else can.
Mai-HiME Omake 18: Mashiro and Fumi
- A very creepy meeting of the minds between Mashiro and Fumi. The only fun part is seeing all the various teas Mashiro drinks. XD
Mai-HiME Omake 19: Akira Okuzaki on Takumi
- Ever wondered what it would of been like if Akira was more like a girl? So does Akira! In her omake, Akira ponders what it would of been like if she were more feminine. It's who you are, Akira! Underneath that tough ninja exterior is a fragile young woman who wants to be loved by Takumi~
Mai-HiME Omake 20: Takumi Tokiha's gratitude
- Yes, Takumi does tire of Mai's constant need to take care of him, but there's a side of him that's eternally grateful. He knows he has the best sister in the world.
Mai-HiME Omake 21: Reito Kanzaki
- Aside from almost seeing Reito's wang, he talks about the BEAST within him. The one that causes him to desire Mai Tokiha so much. Very creepy omake, considering he takes advantage of Mikoto as well.
Mai-HiME Omake 22: Natsuki's feelings on Shizuru
- Those cannot deny Natsuki's feelings for Shizuru here. It's not love (yet), but it's one of the greatest things anyone could give Natsuki: Happiness. Natsuki clearly says "Shizuru's casual reply made me so happy". She doesn't feel that stronger about anyone, not even Mai.
Mai-HiME Omake 23: The History of Fuka
- Midori schools Mai on the history of Fuka (like how it was once written as Fuuka with two 'u's.) Mai has so much trouble keeping up with a vastly knowledgeable Midori, that the two end up in...a yuri hentai? O_o; Okay...
Mai-HiME Omake 24: Mikoto misses Mai Tokiha
- Mikoto may be working for the Obsidian Lord now, but that doesn't mean she doesn't think of Mai. After tasting Fumi's mediocre ramen, she yearns to taste Mai's ramen again. Someday. *sniff*
Mai-HiME Omake 25: Natsuki is finally...HAPPY!
- Once upon a time, there was an angry Tsundere ice princess who didn't trust anyone. Her entire life was dedicated to tracking organizations down and fighting monsters alongside other teenage girls with bizarre powers. Then the unthinkable happened. The Tsundere ice princess met friends she grew to love and care for. The Tsundere ice princess was at last happy and in a relationship with another girl.
Mai-HiME Omake 26: Mai Tokiha on what it means to love
- What is it to fall in love? After everything Mai's been through in the entire series, she gives advice to you the fans on how to show your love for people dear to you. She even says she loves Yuuichi. About time, Mai!
_________________
Mai
-X-
Project
The law of physics: Whenever there's this much gay in one room, Shizuru manifests!When Shizuru said "Ara" for the first time, the "Ara" broke into a thousand pieces and they all went skipping about. That was the beginning of fairies.
Administrator. The Showstopper. The Headliner. The Main Event. The Icon. Mr. Mai-Series.





Posts

: 38805


Bubuzuke points

: 42493


Armitage GUTS!!!

: 2517


Join date

: 2010-05-01


Age

: 32


Location

: Garderobe Academy




---
Permissions in this forum:
You
cannot
reply to topics in this forum