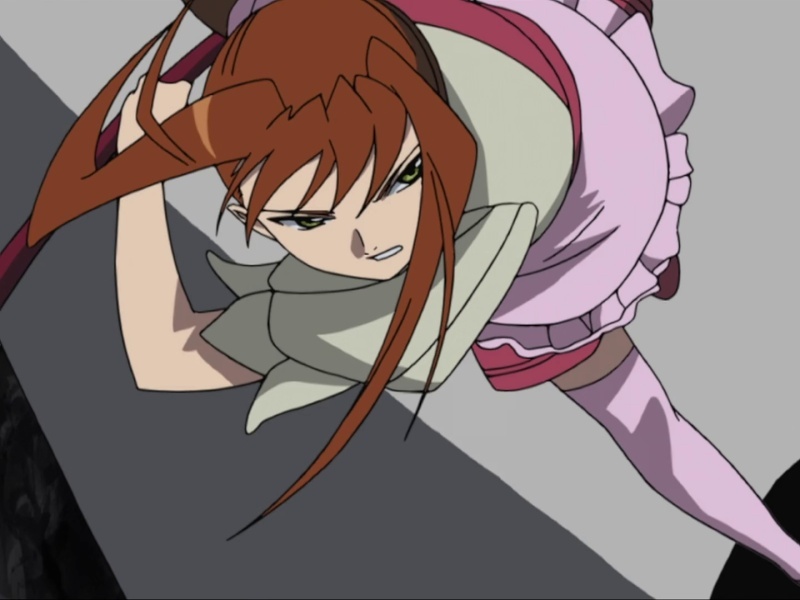 With a chest measuring in at 86cm, Midori Sugiura of Mai HiME and Mai Otome is the perfect example of what it is to be a badass, When we first see her she may simply be working as a waitress, a job she doesn't appear very good at, but let's face it any of us who actually work or have worked in a restaurant we know how painful that can be, but she pulls it off with a smile and sarcasm that could only be considered epic.
Not to mention that outfit suited her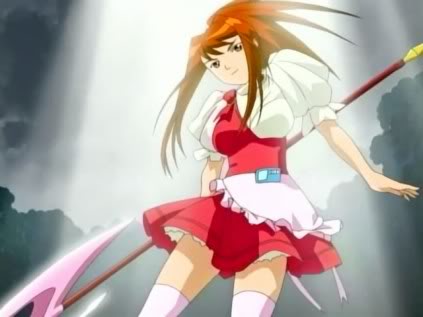 I mean wowza what a goddess! If she came to take my order, I'd leave my wallet as the tip,
But soon afterwards we realize how badass she can be, in Episode 6 we see her stalking the temple that Nao was ambushing her prey at, though we never see a fight we do see Mikoto looking up at what appears to be signs of a battle, and let's face it to go through a battle with Nao, no punches held back and come out unscathed and even show up to work the next day…pretty badass.
Then after accidentally releasing an orphan, one that Natsuki, Mikoto and Mai together could not kill, Our fair maiden shows up and she saves our main trio of the show, also in this sequence revealing that she has the ability to survive buildings collapsing on her and can change into a maid outfit while that is happening, let's face it she is a goddess, nothing short of a deity could survive that.
This scene also reveals her weapon as the Labrys, and Gakutenou as her child,
At first glance Gakutenou may seem like a charge in no strategy kind of child, but once you watch it fight you will not appearances can be very, VERY deceiving. Gakutenou can summon tornados and its tail acts like a saber slicing anything that can get close to our fair maiden. Then to finish of her target Gakutenou dashes in and impales them.
Gakutenou may not be the only child that can switch form with the sole purpose of giving the HiME a mount to ride (the other being Duran), but Gakutenou is the only one to attack whilst doing so, in fact in Mai Otome the two make a deadly pair in combat, but that will be covered later on.
At the end of the Episode Midori is revealed to be the replacement of the old teacher I assume dead, and she acclaims she's 17, though this may be a lie, I still think this running joke suits her.
In Episode 10 Midori hosts a make-up exam, and what does she do? Replicates Iron Chef of course,Her antics by setting this up lead to a few of the funniest scenes in the show,
though the results nearly kill a few characters I'd say the very concept of Midori hosting Iron Chef is awesome…and she does it all in a cape too. That is Badass!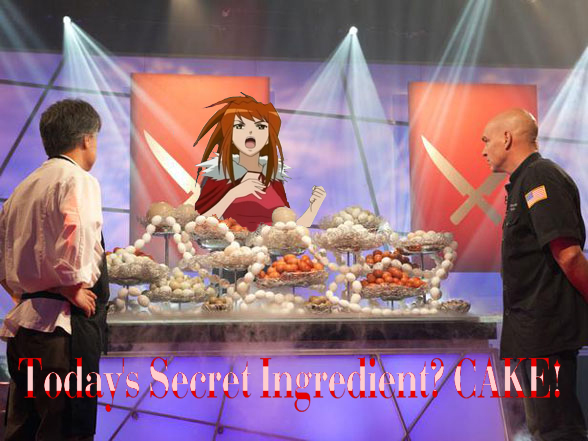 While we don't see nearly as much as we should of Midori throughout the series something I thoroughly am disappointed in we do get a few funny moments, like Episode 7, where she scolds Nao and the others whilst drunk, and is also revealed to have glowing puke, turning a rather dark somber scene into something you have to laugh at
(if the link resets the video's time to zero, Midori comes in just after 2:50)
Then there is the attack on the Sears foundation where it's revealed Gakutenou can fly and she promptly destroys a battleship, I put this above Mikoto's sinking of a ship as Mikoto attacked a passenger liner and Midori attacked a battleship, something designed to take torpedoes, canon fire and crash landing planes. But she goes through it like a hot knife through butter, as shown in this scene.
Then she hosted the famous Karaoke party and created the HiME rangers, which promptly failed due to in fighting amongst the HiME
Also from the way she snuck up behind Mai we can assume she is a Ninja as well
and seeing midori in a Fukka Academy uniform
At the end of Mai HiME she is shown traveling the world with her professor rescuing ancient artifacts, Indiana Jones style;
Holy crap, her most precious person was an elder college of hers, My lady fumi maybe her most precious person is Indiana Jones!
However, as shown in the extended ending of the final episode the series, Midori somehow finds herself working once again at the restaurant, much to Akane and Mai's surprise. My guess is Nostalgia for her old work, and came back
MAI HIME MANGA
In the Mai HiME manga Midori is the Leader of the Orphan Resistance Unit and it is revealed that Gakutenou has an alternate form Gattendaiou, which just sounds badass to say, also Gundam eat your heart out!
Also Her Key is a Bird, which is badass in and of itself
Again though not enough Midori!
MAI OTOME
In Mai Otome Midori takes a major shift, she's taken from a badass and made into the queen of all badasses,
Let's go through the major changes; She now uses dual swords as opposed to her Labrys, is forever at age 17, she is suffering from a disease that is slowly killing her, is the commander and chief of the Aswad, leads an army of cyborgs, is the only person in Mai Otome capable of summoning a child, and is able to fight off Haruka, Shizuru and Nina in a single fight.
Also I have mentioned it here on the Multiverse before but one of my favorite fights in all of anime is this one
On her own she can fight off the Otome, she is without a doubt one of the biggest badasses in the series, nay in all of anime.
High Priest Brony of Midori-ism





Posts

: 3448


Bubuzuke points

: 3743


Armitage GUTS!!!

: 251


Join date

: 2011-07-10


Age

: 26


Location

: Fuuka Academy Teacher's Lounge



Not to mention she is a sea captain!
High Priest Brony of Midori-ism





Posts

: 3448


Bubuzuke points

: 3743


Armitage GUTS!!!

: 251


Join date

: 2011-07-10


Age

: 26


Location

: Fuuka Academy Teacher's Lounge




---
Permissions in this forum:
You
cannot
reply to topics in this forum