Piano: The Melody of a Young Girl's Heart discussion thread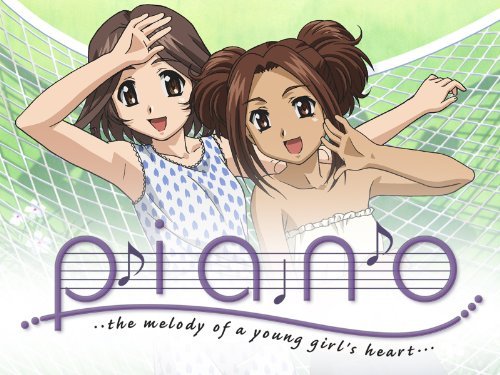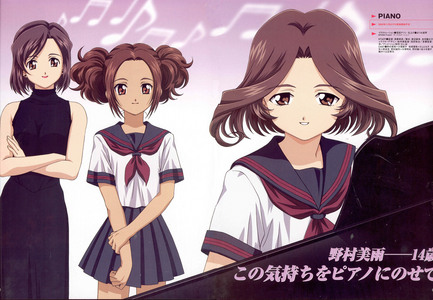 ---
I've owned
Piano
for the longest time, so this will not be a full on review of the series. I decided to bring it up because this anime happens to be the latest on my rewatch list...right before
Mai-HiME
! That's right, it's time to rewatch
Mai-HiME
for me! But not before I complete this beautiful little anime for the fifth time.
Piano
tells the story of an extremely shy girl named Miu Nomura. When she was a little girl, she was a sparkling joy who enjoyed playing the piano whenever possible. It was her dream to play the piano. We cut to years later where we find Miu as a young and confused teenage girl with no confidence in her piano playing. Regardless of these feelings, she continues to play the piano and attend lessons with the always pissed Mr. Shirakawa. A oianist himself, he is quite strict with Miu's ability. Hoping to bring out the best in her in his own way. Shirakawa is not a very expressive man, possibly one of the most introverted men you'll ever meet. He can only communicate through his admiration in piano playing. With the aid of her best friend, the awesome Yuuki Matsubara (your typical tomboy girl who runs track and worries about if her crush will like her, despite being not-so feminine), Miu embarks on a personal quest to find herself.
Not necessary about a girl wanting to become the greatest pianist in the world or proving doubters wrong,
Piano
is a personal journey of self-discovery. Through the support of her friends and even a boy she likes, Miu slowly finds a reason to play with feeling.
Watching this a fifth time is just as wonderful as the previous four. When RightStuf released
Piano
, I was excited for it. An anime that wasn't about giant robots, saving the world or ten hour stare-downs and flashbacks. It's a character story and a very sweet one too. Slice of life anime are nice to watch once in a while to remember the realism aspect of what a young person goes through. We can relate to Miu's life and the people that believe in her. We all have that special someone with so much talent, that you can't help but cheer them on.
Not too many criticisms for this series by other anime viewers, aside from that it's "boring". Pacing-wise? Yes, it's a bit slow. You need to have patience with this series to really stay with it, but it's really rewarding in the long run. It's really about moments like Miu trying to keep her mother's spirit up because of her father being late on their anniversary. Not this: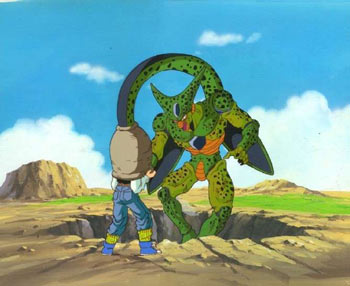 Moments like Yuuki getting into a fight with her boyfriend and being unable to tell Miu about it because she feels like she's taking advantage of her. Annnnd, not this: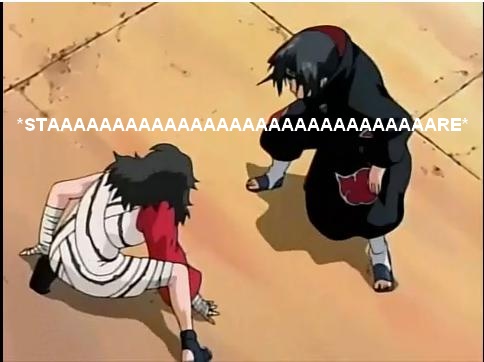 Finally, it's about moments like Miu writing a letter to her stressed out older sister. Wanting her to understand that she is now old enough to listen to her problems, no matter how painful they are. Not so much about this: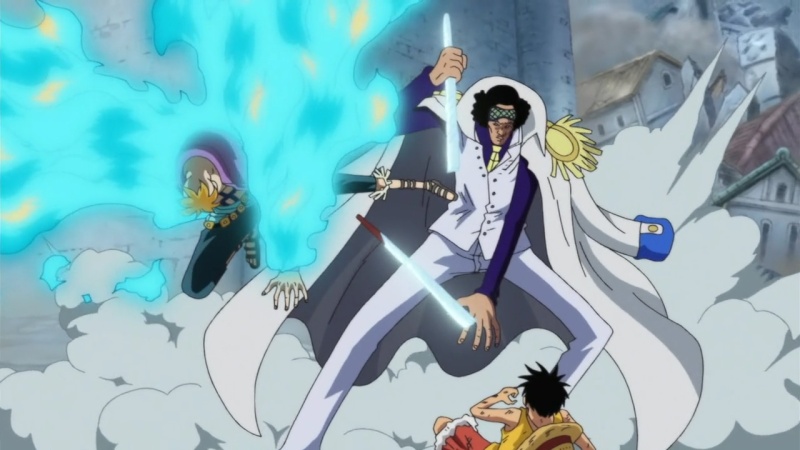 Okay, maybe I'm picking on Shonen anime lately, but it's series like
Piano
that show a more human side to anime storytelling. Elements like that is when anime and manga are at their strongest. Without the characters to like, hate, or relate to and the story, none of it really matters, does it?
This is why (and I'll use yuri/yuri-esque titles as examples) Ga-Rei-Zero, MariMite, Simoun, Mai-HiME and several others
work
. Depth and emotion are powerful things and only few series can send that aura through your television/PC screens.
If you've seen
Piano
, please discuss and all that fun stuff.
_________________
Mai
-X-
Project
The law of physics: Whenever there's this much gay in one room, Shizuru manifests!When Shizuru said "Ara" for the first time, the "Ara" broke into a thousand pieces and they all went skipping about. That was the beginning of fairies.
Administrator. The Showstopper. The Headliner. The Main Event. The Icon. Mr. Mai-Series.





Posts

: 38808


Bubuzuke points

: 42497


Armitage GUTS!!!

: 2516


Join date

: 2010-05-01


Age

: 32


Location

: Garderobe Academy





Similar topics
---
Permissions in this forum:
You
cannot
reply to topics in this forum