Discussion thread for Mai HiME Episode 22: Collapse
_________________
Mai
-X-
Project
The law of physics: Whenever there's this much gay in one room, Shizuru manifests!When Shizuru said "Ara" for the first time, the "Ara" broke into a thousand pieces and they all went skipping about. That was the beginning of fairies.
Administrator. The Showstopper. The Headliner. The Main Event. The Icon. Mr. Mai-Series.





Posts

: 38808


Bubuzuke points

: 42497


Armitage GUTS!!!

: 2516


Join date

: 2010-05-01


Age

: 32


Location

: Garderobe Academy



 I've been waiting for this day to come. Starting at episode 21, really, that was when Shizuru kicked Mikoto off as #1 as my favorite character 
I told this story many times before, but the hell with it 
Episode 22 story:

So I knew about the behind-the-teahouse-door scene, and when I saw episode 22, I was expecting THAT scene to happen >:3 During those scenes, I was expecting it to happen like RIGHT NOW, especially during the first teahouse scene, but then the scene had cut to morning, and I was all "NO D:"

However, when the kiss scene came on, I was literally cheering Shizuru on when she was about to kiss the sleeping Natsuki 

 Literally I was saying "DOITDOITDOITDOIT!", with this expression

And even though I've heard of Shizuru before I've heard of Mai-HiME, she wasn't near close on turning me lesbian for her 

 It was either episode 22 or forward when that changed
I would blab on more, but that has to wait for the next remaining 4 episodes 
Anywho, positive thing about the episode is the somewhat ShizNat canon, which is probably the only reason why I like the episode 
 But regardless, episode 22 isn't the best HiME episode out there 
Space Samurai Marshall Banana





Posts

: 8940


Bubuzuke points

: 9709


Armitage GUTS!!!

: 593


Join date

: 2012-07-21


Age

: 27


Location

: Purgatory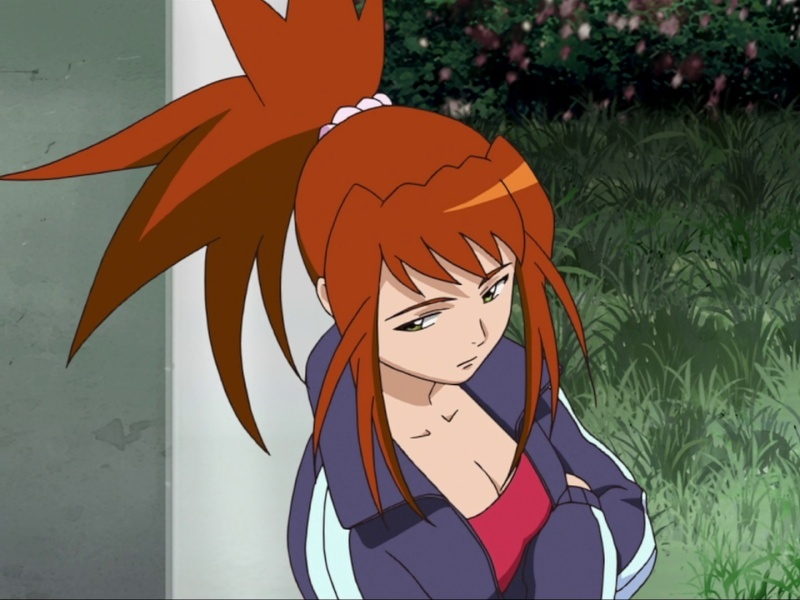 It's sure getting lonely around here at Fuka Academy. Mai-HiME Episode XXII: Collapse opens with Midori and Mai have a private discussion on the Obsidian Lord. This scene is very disturbing in a way. Midori tells Mai that the situation is pretty hopeless. There's no choice but to fight each other, if that is what Mai desires. She is even accepting of the fact that Mai may want to defeat her. Midori isn't stupid, she knows she has no chance of winning with Kagutsuchi at Mai's disposal. It's painful watching the optimistic defender of justice, Midori Sugiura, in a realistic state of mind. Reality has nestled down on her; knowing there's no way out and little time left.
All over the world, the natural disasters continue to pile up as the HiME Star draws closer to Earth. Chie and Aoi talk about the ruin of Fuka Academy lately, including the disappearances of Nao, Mai and Mikoto. Out of them all, they're concerned about Mai the most. Aoi mentions that she tried asking Mai about Takumi and got no reply. Chie asks Tate if he knows anything, but again, nothing. Things have gotten so complicated that none of the characters will open up. Can you blame them? A lot is on their mind, especially Mai and Tate. Out of nowhere, Reito gets Tate's attention by revealing Mai's whereabouts. Even though he's aware of Tate's feelings for her? You sure know how to set things up, Obsidian Lord. I mean-Reito-san. This statement couldn't posses anymore truth than the next scene where Reito implies that Yukino knows where Shizuru is hiding. This interests Haruka greatly, even though Shizuru's deliberate disregard of Student Council duties would give her control over Fuka. Cut to scene where one of Diana's (Yukino's CHILD) spy spores are keeping tabs on Natsuki (wearing a beautiful yukata). She reveals to Shizuru that she actually did try to call on Duran to save her from Nao. For some reason beyond her understanding, Duran didn't come to her rescue. Shizuru doesn't say anything, but she's a damn good listener and that's all anybody needs in this situation.
Over at the bridge, Mai continues to angst, giving the mystery HiME an opportunity to strike. Mai accepts that this is what HiME must do, so she prepares to battle against the HiME. Tate arrives on the scene, causing the mystery HiME to disappear again. He expresses concern for Mai, not that it matters to a lifeless Mai. Looking at her was like looking into the face of a skeleton. Accepting of the destiny that plagued her life, causing Takumi, Mikoto (so she thinks), and Alyssa to be killed.
"That's the kind of person I am. Taking away the people who mean the most to them!"
For his own sake, she tells Tate to stay as far away from her as possible. Mai flies off with Kagutsuchi, trying to suppress her feelings so that Tate won't be in any danger. At the Obsidian Palace, Reito continues to admire Mai's actions and even gets a surprise visit from John Smith. Smith wants to discuss about an uncertain element that may lead to the destruction of the Carnival. Sunrise? Was that fisheye lens shot of Smith's nose, necessary? Meanwhile at Yohko's office, Midori runs into Yukariko who was feeling a bit tired. The two talk privately about what's been going on with Yukariko asking if Midori has somebody special in her life. Now I like this scene, both characters have men in their lives whom they value deeply. Speaking of men, Ishigami is found by Nagi and boy is he screwed! Or not! Nagi is willing to overlook his foolish plot to control the HiME Star if he can do Nagi a favor.
This next scene...well...it's considered a major fan favorite throughout the world! During sunset, Shizuru checks on Natsuki, only to find her asleep. Unable to control her feelings any long, Shizuru kisses Natsuki deeply. AHHHHHHHHHHHHHHHHHHH!!! <33333333333333333 It's a shame Haruka doesn't quite share that sentiment. If you thought Haruka was angry about Shizuru hiding away and kissing another woman, you should see Shizuru's face during this scene:
That is the face of a human being who had her moment RUINED and her privacy VIOLATED. It's amazing she was able to continue wearing her "mask". Later on, Natsuki wakes up (thanks to a dream of Shizuru trying to kiss her...) and overhears a conversation between Haruka, Yukino and Shizuru. Haruka and Yukino pretty much damn Shizuru for abandoning her duties, having little to no regard for Haruka pulling all the weight around and above all- being a lesbian. I put it that way because I'm confident that Haruka disapproves of homosexuality. Yukino drops the biggest bombshell in the entire series by claiming she knows what Shizuru did to Natsuki while she was asleep the night before. The kiss a while back is one thing, but Yukino is accusing Shizuru of raping Natsuki. Shizuru fires back by saying Yukino loves to watch other people. It's her hobby to stalk others like some creep. Having it up to HERE with Shizuru's slander, Haruka slaps Shizuru across the face and damns her for back talking Yukino and being a filthy lesbian. Both her AND Natsuki Kuga. A justified slap is returned by Shizuru; Shizuru was the topic at hand and Haruka drags Natsuki into it. In my opinion, Haruka deserved that slap. Feeling that they've crossed the line, Shizuru materializes her Naginata weapon to kill Haruka and Yukino. For the sake of the one she loves.
Remember a while back where Mashiro gave Midori the option to revive Miyu? It would appear that she decided to use that option now, only Mikoto has other plans for Midori. Mai meets up with Nagi where she accepts his sick and twisted Carnival. On one condition, that she meets with the Obsidian Lord immediately. This is all well and good for Nagi, but he demands proof first. The episode ends with an explosion at Mashiro's mansion, where Nagi (under Reito's control) urges Mai to investigate.
This episode was immensely tense from all angles. We've seen Mai on her last legs, Midori becoming desperate and of course, the reveal of Shizuru Fujino's true feelings for Natsuki. We always knew she was in love, but having Natsuki are her sole purpose to kill? Now that's rich depth you don't see much in anime anymore, with the exception of
Puella Magi Madoka Magica
. Episode 22 offers a lot of complexity and dimension for it's trouble heroines and villains like never before. This is powerful writing by Sunrise and it only gets worse...for the characters. Better for an epic storytelling perspective.
+ Brilliantly written
+ The core of these characters are being tested
+ The entire exchange between Shizuru and Haruka
+ A sense of lost hope
+ Natsuki at her most vulnerable.
_________________
Mai
-X-
Project
The law of physics: Whenever there's this much gay in one room, Shizuru manifests!When Shizuru said "Ara" for the first time, the "Ara" broke into a thousand pieces and they all went skipping about. That was the beginning of fairies.
Administrator. The Showstopper. The Headliner. The Main Event. The Icon. Mr. Mai-Series.





Posts

: 38808


Bubuzuke points

: 42497


Armitage GUTS!!!

: 2516


Join date

: 2010-05-01


Age

: 32


Location

: Garderobe Academy



The seemingly Shizuru-raping-Natsuki scene = biggest trigger to cause fan wars 
Space Samurai Marshall Banana





Posts

: 8940


Bubuzuke points

: 9709


Armitage GUTS!!!

: 593


Join date

: 2012-07-21


Age

: 27


Location

: Purgatory




---
Permissions in this forum:
You
cannot
reply to topics in this forum