Discussion thread for Mai HiME Episode 12: The Smile of an Angel
_________________
Mai
-X-
Project
The law of physics: Whenever there's this much gay in one room, Shizuru manifests!When Shizuru said "Ara" for the first time, the "Ara" broke into a thousand pieces and they all went skipping about. That was the beginning of fairies.
Administrator. The Showstopper. The Headliner. The Main Event. The Icon. Mr. Mai-Series.





Posts

: 38808


Bubuzuke points

: 42497


Armitage GUTS!!!

: 2516


Join date

: 2010-05-01


Age

: 32


Location

: Garderobe Academy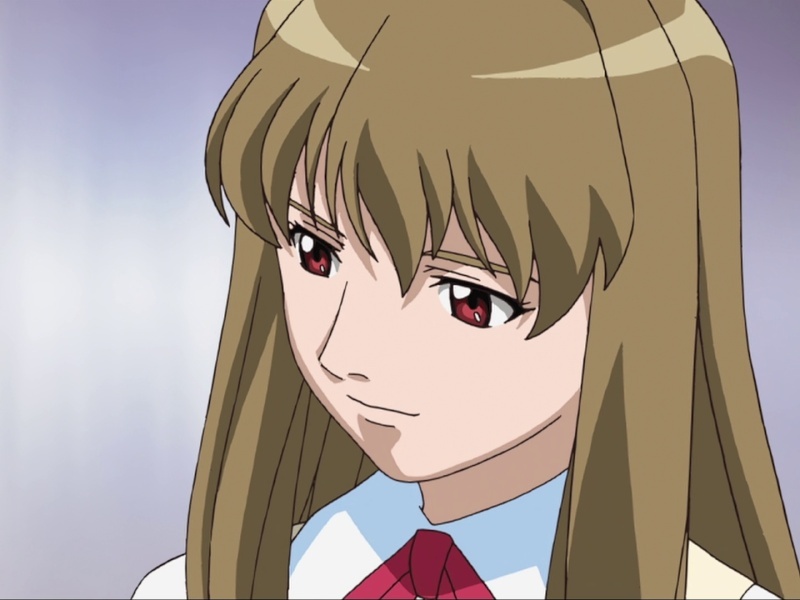 Picking up immediately where episode 11 left off, Mai-HiME Episode 12: The Smile of an Angel shows us how Yukariko exposed himself as a HiME. As in the previous episode, we see that Aoi is the latest victim of the Vampire Orphan. After Aoi falls unconscious, the Orphan sets it's sights on Yukariko. In a desperate attempt to survive, Yukariko summons her HiME abilities and knocks the Orphan away. Her Element also makes it's appearance by materializing in her hands. It's a shame that Yukariko didn't use her Element much in the series because her bow and arrow Element is beautiful. One of the coolest Elements in the series, right up there with Mai's rings and Shizuru's Naginata. That's not all; her child "Vlas" (imagine a giant demonic looking Knight chess piece) makes his debut as well. Sister Yukariko gets a few shots in before the Orphan retreats. Now we arrive at where the ending of the previous episode left off, with Yukariko screaming in terror. After everything that just happened, I don't blame her. It all just sunk in at that moment.
At the Student Council Room, Haruka attempts to get Yukariko to spill her guts on what happened, or if she's responsible in any way. Only Haruka seems to remember the weapon that Yukariko was carrying. The others dismiss the weapon because it wasn't found. Tate seems to recognize it for a second but also denies it's existence. Shizuru notices Tate's awkward reaction as well and suggests that she speak with Yukariko privately. Aoi seems to be recovering nicely from the incident, even with a broken leg and memory loss. Mai is sick of people getting hurt by these monsters, so she takes her complaints and questioning to Mashiro. Unfortunately, Mashiro is unable to reveal anything about the Orphan. Sick of Mashiro being so secretive, Mai and Mikoto decide to take things into their own hands by destroying the Orphan. Next we get a call from someone who is about to do Mashiro a favor...
Meanwhile at Fuuka Academy, Shizuru just finished speaking with Yukariko. Whatever they talked about has Yukariko worried. Stop staring at her, Shizuru! You're being creepy right now! Fortunately the creepiness ends when Shizuru returns to the council room and finds Natsuki digging up information again. Now this is clearly another ShizNat moment in retrospect! Look at how Shizuru stares at Natsuki and her "AWEEEEE!!!" reaction when she gets up from her chair. Shizuru then says "Don't do anything dangerous" and Natsuki just give her this badass cocky look that screams "Danger is my middle name". I love these two. I SHIP THEM HARRRRRRRD.
We catch up with Yukariko again as she bumps into Ishigami. Taking advantage of her vulnerability, Ishigami makes his move on the naive Sister. Inside the chapel, Haruka works overtime in hopes of catching the prowler. According to Yukino, she hasn't slept in two days! She even has the nerve to tell Yukino that SHE should get some rest to rejuvenate herself. Someone should take her own advice :). Below, Joseph Greer and his minions are discovered by Natsuki. She demands answers for their shadowy organization's motives. Miyu shows up and knocks Natsuki out cold with just her hand. She suggests the old "worm on a hook" trick to lure the other "Valkyries". Old tricks never loose their effectiveness since Mai and Mikoto head out to save Natsuki. Why just Mai and Mikoto? Because Nao doesn't think fighting the Orphan has anything to do with her and Midori is vast asleep from all her researching. That's just lazy writing to have two HiME not be part of an early battle against Miyu and Alyssa. You can argue that Nao wasn't ready to fight for the good side just yet, but Midori? Come on! The upcoming battle really needed her! Mai runs into Tate and tells him that she will take care of the vampire as long as he stays out of it. Now I know Tate doesn't belong on the battlefield at all (this isn't Manga Tate who can defend himself against strong beings), but it is nice to see him be so concerned for Mai. He obviously cares and wants her to know that. Reito overhears the conversation and he doesn't look very happy. That's a bit of character development there; seeing Reito lose his cool face is rewarding. We also get a scene with Mikoto and Yukino talking about how awesome their  girlfriends are! Haha! If you are a hardcore HaruKino and MaiKoto shipper, this is a very nice scene.
Now about Yukino, we get another great reveal (with Yuki Kajiura's amazing music blaring in the background) as she reveals herself to be a HiME. Summoning her CHILD, Diana, to locate the Orphan. Yukino informs Mai and Mikoto about Natsuki's capture. Once that task became complete, Natsuki fills Mai in on the SEARRS Foundation and their control over world leaders. Miyu chimes in by saying that they also control the fate of the entire planet; to usher in the Golden Age. Mai, Mikoto and Natsuki battle Miyu and the Orphan in a very exciting battle. Good length too, everyone gets their signature moves in at some point. The best part is when Mikoto tries to murder Alyssa! Unlike Mai, who would question why Alyssa is part of an insidious plot, Mikoto just want to exterminate the problem at the core. Miyu saves Alyssa just in time and the fight continues until the Vampire Orphan is finally destroyed by Kagutsuchi. Miyu and Alyssa left standing with Kagutsichi ready to send them to Hell. Mai is unable to murder them by thinking about how beautiful they both were on the field that day. Miyu and Alyssa take advantage of Mai's kindness and make their retreat. The next day, the news at Fuuka Academy is that the vampire pervert was finally caught and he confessed to all the crimes. Tate knows this is another cover up and that Mai must of been successful in defeating the monster. The Searrs Foundation communicate with Joseph (through Miyu which is creepy) and tell him he's fired. Alyssa is now in charge of the operation!? Joseph does what any normal person would do upon hearing such news and run. Miyu stops him and doesn't answer to his shut down commands that were deleted.
Good episode to end the two-part Vampire Orphan story, furthering the SEARRS Foundation storyline. My only complaint about this episode is the many missed opportunities for the climax battle. Why did Midori have to be sidelined? Other than that, very good and even deepens the relationships in the series like Mai and Tate, Mai and Mikoto, Haruka and Yukino, Yukariko and Ishigami and ShizNat.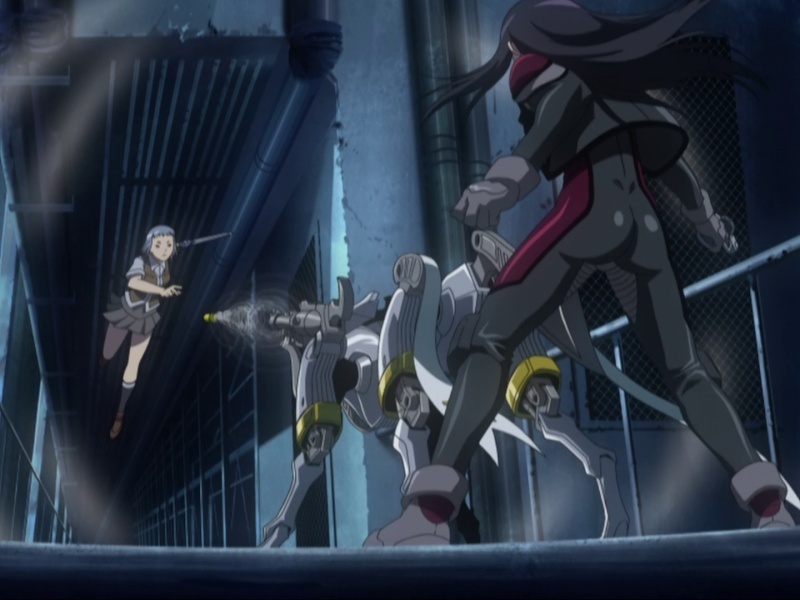 + Great action sequence!
+ Mikoto's Anti-hero moment!
+ Well paced.
+ Well executed HiME reveals (Yukino and Yukariko)
- Midori should of had a match with Miyu and/or the Vampire Orphan.
_________________
Mai
-X-
Project
The law of physics: Whenever there's this much gay in one room, Shizuru manifests!When Shizuru said "Ara" for the first time, the "Ara" broke into a thousand pieces and they all went skipping about. That was the beginning of fairies.
Administrator. The Showstopper. The Headliner. The Main Event. The Icon. Mr. Mai-Series.





Posts

: 38808


Bubuzuke points

: 42497


Armitage GUTS!!!

: 2516


Join date

: 2010-05-01


Age

: 32


Location

: Garderobe Academy



One of my favorite episodes from "Act I". The episode had caught me in surprise on how awesome the show is when I first saw it. Episode 12 is just one of those episodes that give you that deep and emotional power, along with keeping you on the edge of your seat during the intense action sequences. And Mezame was the perfect touch, which made the episode even more awesome, and it shows what a genius Yuki is 
Space Samurai Marshall Banana





Posts

: 8940


Bubuzuke points

: 9709


Armitage GUTS!!!

: 593


Join date

: 2012-07-21


Age

: 27


Location

: Purgatory




---
Permissions in this forum:
You
cannot
reply to topics in this forum