Discussion thread for Mai HiME Episode 10: Cake Wars!!!
_________________
Mai
-X-
Project
The law of physics: Whenever there's this much gay in one room, Shizuru manifests!When Shizuru said "Ara" for the first time, the "Ara" broke into a thousand pieces and they all went skipping about. That was the beginning of fairies.
Administrator. The Showstopper. The Headliner. The Main Event. The Icon. Mr. Mai-Series.





Posts

: 38808


Bubuzuke points

: 42497


Armitage GUTS!!!

: 2516


Join date

: 2010-05-01


Age

: 32


Location

: Garderobe Academy



Ah, fillers. Nobody who loves story telling and progression of the storyline likes them, correct?
Well, you'd be half right. In all my years of watching anime, I've come to realize early on
that there is good filler and bad filler. Good filler exists in a series like Sailor Moon. Say what you will about the "Monster of the Week" episodes in the anime series, they set the stage by focusing on a Sailor Senshi. It's called "character study"; the series gets a free pass here. Bad filler on the other hand runs rampant in Shonen anime like Dragon Ball Z, One Piece and Naruto. Naruto being the biggest offender in this area as many episodes don't serve a purpose to the main goal of the characters. Then there are episodes that just run on flashbacks to ensure the series lives as long as humanly possible. Toei Animations clearly did this with Dragon Ball/Z/GT and regret it today with the most obvious piece of evidence- The release of Dragon Ball Kai; a shortened version of the original Dragon Ball Z.
So why am I bringing this up with Mai-HiME? Simple, because Mai-HiME Episode X: Cake Wars!!! falls under the category of filler. Is it good or bad? I don't know, let's see shall we? The episode opens up with Midori Sugiura announcing an Iron Chef-like competition between selected Fuka Academy students and representatives. The teams (which are shuffled later) consist of students who either flunked the cooking test or the term paper (Haruka Suzushiro, Shiho Munakata, and Mikoto Minagi), those who have skipped classes (Mai Tokiha, Miyu Greer, Shizuru Fujino and Yukino Kikukawa), and finally those who didn't even attend the cooking class or were caught trying to skip the make-up class (Natsuki Kuga and Nao Yuuki...BWAHAHAHA!). Each team will be given guest instructors (Yohko Sagisawa, Yukariko Sanada and Fumi Himeno) and the results of their baking will be taste tested by the guest judges (Ishigami, Reito, Tate and Sakomizu). The teams are finally shuffled and divided into the following:
Shizuru, Haruka, Yukino and Yohko.
Nao, Natsuki, Mikoto and Yukariko
Shiho, Mai, Fumi and Miyu.
Today's challenge? CAKE! Eh?! EH!? Mai seems bothered by the whole thing, Natsuki could barely hold any interest and Nao's texting on her mobile. We then catch up with Akira Okuzaki who just woke up from her slumber. She reveals the obvious (those of you who are new to Mai-HiME, I apologize for spoiling the fact that Akira is a girl in previous reviews, but it's just SO OBVIOUS! By unzipping herself in this scene, we see that she binds her breasts to disguise herself as a boy. As Akira is about to change out of her clothes, Takumi arrives and asks her if she's got a sweet tooth. It would seem Midori and all her students aren't the only ones enjoying deserts today! Now this episode is famous for the hilarious antics of Midori's Cake Wars competition, but there's an blooming flower within the episode. One that fans rarely talk about. Up until this episode, Akira Okuzaki mostly just stood around the background as nothing more than Takumi's roommate. In episode 9, we saw her show sincere kindness towards Takumi. Now is the time we get to know Akira as the human being and the HiME. More on this below.
Moving away from the competition, we see Chie and Aoi. They're both down that they couldn't attend the cooking contest as they're busy hauling groceries home. Nagi shows up and starts babbling about wanting to taste Mai's baked goods. Who wouldn't? Cut to the chapel where Joseph Greer tells Alyssa that it's time to usher in the next Golden Age. What could they mean by this? And is that an Orphan unleashed by Alyssa!? No time to explain as we returned back to the competition, where the girls are deciding what to bake. Mai's team decides on Chiffon cake thanks to Fumi (THIS ISN'T ABOUT WHAT KIND OF CAKE MASHIRO LIKES, OKAY FUMI?!). Haruka's team decides on the chocolate cake after Haruka makes a few dozen fails. But these fails would come back to bite her in the ass! In one scene, Haruka tells Shizuru to "yeah, yeah, why don't you go have tea or something, President." Later on, Shizuru would troll Haruka by drinking tea and doing nothing else. Not even to catch the dropped chocolate cake.

Be careful what you wish for, Haruka. Natsuki's team is the absolutely worst and that's saying a lot! Yukariko seems to be on the ball; but between Mikoto's egg spamming and Natsuki and Nao's cat-fights, she wasn't praying to The Lord Our G O D hard enough. A lot happens during the competition that I can't spoil it for you! Yes I have spoiled major plot points in my review, but I'd be a crime to spoil well written comedy and there's a lot of it in this episode. Trust me, you'll have a blast watching everyone fail so hard. There are even a few surprises that you'd never see coming. Here's a hint: HOW DID FUMI DO THAT!? AND
THAT
!!! What I will talk about is what happens during the final stretch of the competition; a cake Orphan appears to gobble up all the entries. Mai, Mikoto and Natsuki chase after it, only to end up running into the other Orphan sent by Alyssa. The girls defeat it with an awesome triple team attack.
Takumi plans on making a cake for some reason and Akira's left in the dark about it. She's left confused as to why he doesn't just buy a cake; also finding it strange that Takumi has an interest in cooking. Even so, Akira offers to lend a hand as long as she gets some...cake. Seewhatididthere? Takumi then reveals why he's making a cake today. Akira is even more determined to help him now. She takes notice of him wanting to be a good little brother all the time. Takumi admits to her that he is always a burder to Mai, ever since they were little. In that moment, you can tell Akira's respect for him went soaring. Akira then heads off to buy icing sugar for the cake. Meanwhile, the Cake Orphan from earlier smells better cake coming from Takumi's dorm. Once it consumes one of Takumi's cakes, it grows in a giant form. Takumi runs for his life and thankfully, Akira shows up in time to help. As a ninja and a HiME summoning her CHILD; Gennai. After the very fast pace battle between Akira and the Cake Orphan, Takumi thanks Akira for saving his life. Akira denies she's Akira Okuzaki and informs Takumi that she's a secret ninja who saves people. You can fool a lot of people Akira, but even Takumi sees right through you. Or does he? We see Akira returning to her dorm where she unbinds her breasts. She comments that they've gotten bigger than before; worried that Takumi may have figured out her secret. The episode ends with a surprise birthday bash for Mai Tokiha! Meaning the events of the episode took place on July 22nd, which is her official birthday as stated by Sunrise. So those groceries Chie and Aoi got earlier were for the party? And a gift too! Oh you girls!~~~~~ How thoughtful! Meanwhile, beneath the chapel, Joseph Greer tells Miyu to continue monitoring Natsuki, Mai, Mikoto and Akira and to find the remaining HiME.
Cake Wars!!! is an episode everyone in our fandom remembers. it's over the top silliness with some cool battles and reveals tossed in for good measure. Yet nobody sees it's greatest strength: Takumi and Akira. We get character study for Takumi as he continues his personal relationship with Akira. Someone he considers his best "guy friend" now. In return, Akira befriends him further by helping him make a nice cake for his sister. She even saves his life, knowing the risks in exposing her true gender as a female. There's a lot of trust between these two sweet characters. It'll take a few episodes to get there, but I feel underneath Cake Wars!!! hilarity, we see the true core of the episode with the shipping of TakuAki slowly becoming a reality.
That my friends, is
GOOD
filler.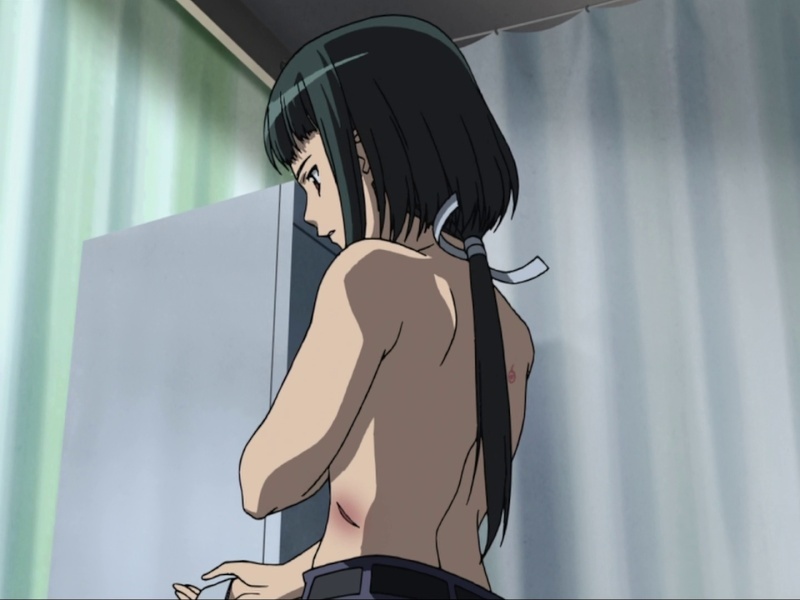 + TakuAki are closer than ever
+ Akira Okuzaki's amazing debut as a HiME
+ Hilarious
+ The result of the taste test. BEE DOO BEE DOO BEE DOO!
+ Cool battles
_________________
Mai
-X-
Project
The law of physics: Whenever there's this much gay in one room, Shizuru manifests!When Shizuru said "Ara" for the first time, the "Ara" broke into a thousand pieces and they all went skipping about. That was the beginning of fairies.
Administrator. The Showstopper. The Headliner. The Main Event. The Icon. Mr. Mai-Series.





Posts

: 38808


Bubuzuke points

: 42497


Armitage GUTS!!!

: 2516


Join date

: 2010-05-01


Age

: 32


Location

: Garderobe Academy



Ah, Cake Wars. The best (and probably most random) filler episode in Mai-HiME
This episode ranked in my top 5 favorite HiME episodes. I can't remember much about my reaction when I saw this episode, but I do remember being surprised at Akira's epic debut as a HiME, though it was no surprise for me that Akira was revealed to be a female. She did a shitty job hiding her biological sex
And I also remember once again laughing at Mikoto's rampage, especially when she trashed everything trying to get that one Orphan
Of course I was still ignorant about the show, so I didn't really pay attention to Shizuru's "zero-fucks-given" attitude. Nowadays her trolling does nothing but make me laugh
Oh and I can't forget being a bit in awe during Mai's surprise birthday party :'3 It makes me wonder why some people dislike Takumi
Space Samurai Marshall Banana





Posts

: 8940


Bubuzuke points

: 9709


Armitage GUTS!!!

: 593


Join date

: 2012-07-21


Age

: 27


Location

: Purgatory



Episode 10: Cake Wars
A funny episode. I just found it funny having Natsuki being teamed up with Nao and Mikoto. Mikoto only thinks of getting to eat cake, not even knowing that a cake needs to baked first. Back when I first Also, I already knew that Akira was hiding something even before seeing this episode. It's no surprise to find out here in EP 10 that Akira's a girl.
-- "If you pick it up within five seconds, you'll still be able to eat it."
OMG. That just made me laugh. Haha. So the Japanese know that, too, huh? Haha.
I found the surprise party at the end pretty sweet, too. :)
Pearl Otome





Posts

: 1913


Bubuzuke points

: 2191


Armitage GUTS!!!

: 272


Join date

: 2013-04-24


Age

: 31


Location

: A place forgotten by time



I suspect the translator decided to use a saying English speakers would be familiar with as a substitute for a Japanese saying that they would not be familiar with.  Sometimes its better to convey the gist/spirit of what's being said rather than trying to translate literally.

I could be wrong though -maybe Shizuru's line does literally translate to "If you pick it up in five seconds, you can still eat it."  Is there anyone here who is familiar with Japanese who can tell us what she really said?
Fuuka Academy Student





Posts

: 46


Bubuzuke points

: 88


Armitage GUTS!!!

: 20


Join date

: 2012-07-02



There's something I find really funny about this episode (let's say, for sake of example, Takumi was in a fourth team by himself with nobody helping out with the baking itself) (Oh, let's also say, just for now, that sending people on supply runs doesn't count, as you already have the supplies you need). All four teams were, to my knowledge, competing under the same circumstances. Same supplies, same goal (to make a cake, let us discount personal motivations to do so for now), same Orphan attack.
If a scenario with that were to occur, I just couldn't help but laugh my lungs out at the fact that three teams of three older women each (maybe not Mikoto), with assistance from staff, all got their asses handed to them on a silver platter (with a generous helping of cake) by one guy with a heart condition and no support baking.
I imagine some really humorous reactions coming out of that.
Why I bring this up is that Takumi and the three teams of three (plus one assistant each) were baking at more or less the same time. Takumi initially even made
two
cakes, (admittedly, one was eaten by the Orphan). I think even Luu said it in the summary that Takumi's cake was the better one. After a hard day, he's prepared this large cake that everyone finds really good. If only they realized how much they would have been humiliated if he had actually participated in the re-exam (No character bashing is intended here, I just find the whole simultaneous cake-baking and Takumi's theoretical triumph extremely amusing in a schadenfreude kind of way).
Still, with the Cake Wars, I wonder how the three teams of competitors would cope if he had actually participated. I'm particularly curious about the reactions of Natsuki, Nao, Mikoto, Haruka, Shizuru and maybe even Fumi (I can maybe see her swiping a sample to take back to Mashiro). Episode 10, Cake Wars... if only Mai's younger brother was in the re-exam (not that there is anything wrong with him not being there, I'm just saying it would probably be an even more intriguing and maybe amusing thing if he was).
Valkyrie





Posts

: 238


Bubuzuke points

: 331


Armitage GUTS!!!

: 59


Join date

: 2013-01-02


Age

: 25



franticfranz wrote:

 -- "If you pick it up within five seconds, you'll still be able to eat it." 

OMG. That just made me laugh. Haha. So the Japanese know that, too, huh? Haha.
One of Fujino's best trolling lines 
Space Samurai Marshall Banana





Posts

: 8940


Bubuzuke points

: 9709


Armitage GUTS!!!

: 593


Join date

: 2012-07-21


Age

: 27


Location

: Purgatory




---
Permissions in this forum:
You
cannot
reply to topics in this forum